Do you know what a flower garden is? Do you know How to Start a Flower Garden? Flower garden is a place where same or different type of flowers are grown. This is actually enjoyable hobby.
Everyone can plant flowers in their garden because it is not difficult. Planting flowers gives you more advantages such as enhance the beauty of your garden, bring an exercise and looking at flowers help to relax the mind.
Furthermore it helps to purify the air and attract the pollinators. So you can also grow flowers in your garden. You can make the works easier by using tools like hoe, shovel, rake, gloves, watering can etc.
If you are interesting to start a flower garden in your yard, you should know how to do it correctly. By reading this guide, you will be able to know, How to Start a Flower Garden: 7 Steps for Beginners.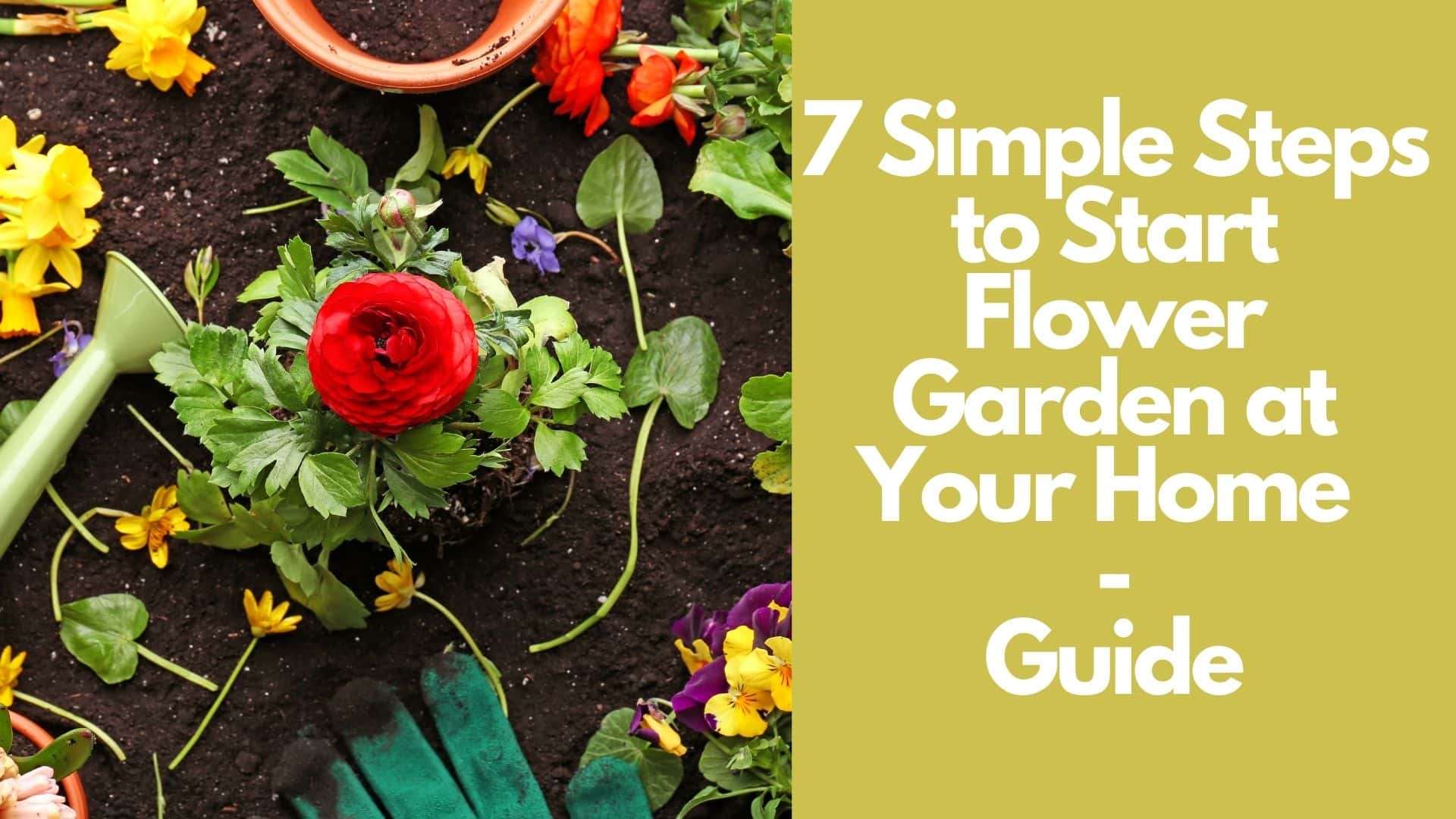 1. Select a suitable ground
First of all, you should decide where to grow flowers. It would be nice if there were no huge trees near the selected ground. What shape do you want to make your flower garden? According to your wish, it is important to create the area.
Which area is suitable for flower garden at home?
If you are making a flower garden in your home, front area is better to select because even guests can enjoy it as well as enhance beauty of the home garden. The place you selected can be small or large but it is not issue.
You should make sure to select the ground that receives sunlight. It helps to obtain more results. Lot of plants need sunlight to grow and bloom. Some plants love with shade. So you should select best place to plants according to nature of these plants.
It is good to create a border around the garden.
2. Remove weeds in the ground
Cleaning the selected spot is essential before starting a flower garden. Weeds usually grow in anywhere. Not only weeds but also gravels, stones can be there. You should rake your area and remove them carefully.
Weeds should be removed completely from the roots. If not they will grow again. You can remove them by your hand or hoe. Wearing gloves is must when you removing them by hands.
3. Prepare a fertile soil
Different type of plants prefer to thrive in different soils. Usually to make a successful flower garden, fertile soil is needed because water and nutrients absorbed roots of the plant by soil. The soil should not be too dry or wet why it is not healthy to the survival of plants. Then you can check whether the soil is fertile or not.
How to check the quality of soil?
There are many ways to check the soil is healthy. Soil color, soil compaction, water infiltration and earthworms are some ways to test the soil in the garden. Apart from them, you can check healthiness of the soil by giving some soil to the laboratory. Checking the pH level of soil is good before planting.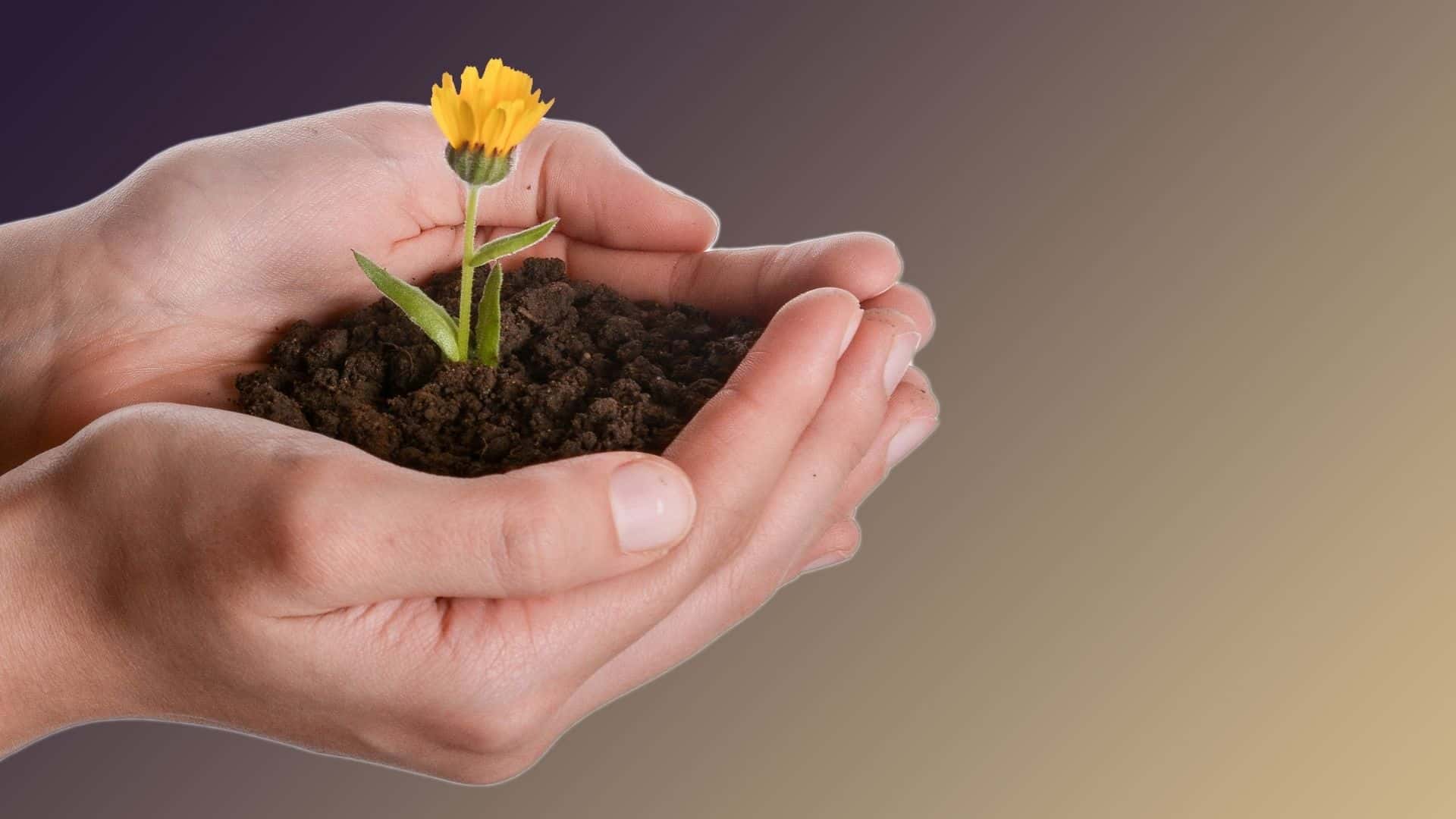 How to improve the soil fertility?
Adding organic matters and compost helps to improve the quality of soil. It is best to prepare compost in yourself at home by dried leaves, straw, veggie or fruit scraps, eggshells, cow-dung and so on. The compost layer should be about 2-3 inches.
You can make healthy soil by providing suitable nutrients. You should make sure to loosen the soil when preparing soil. It helps the plants to absorb the required nutrients from soil properly.
4. Choose the flowers to grow
First you decide what flowers to grow in the ground. It is important to consider what colored or fragrant flowers are grown. Are they suitable to there? Right flowers should be grown in the ground because there are variety of flowers that vary due to color, shape, size and so on.
How much sunlight do flowers need?
The amount of sunlight differ according to the nature of plant. Some are sun lovers whereas some are shade lovers. Full sun loving flowers usually need 6 or more hours sunlight and partial sun loving flowers need 3 or 6 hours of sunlight. Shade loving flowering plants can thrive that they receiving less than 3 hours of sunlight. All of them cannot plant together.
 Flowers that prefer full sun – Verbena, Pentas, Lantana, Marigold, Hibiscus, Canna, Moss Rose, Blanket Flower
 Flowers that prefer shade – Impatiens, Torenia, Fuchsia, Viola, Cowslip, Hydrangeas
What are the best annual flowers and perennial flowers for your garden?
There are many annual flowers as well as perennial flowers. This will be useful you to select suitable flowers among varieties before buying.
 Annual flowers – Begonia, Zinnias, Marigold, Cornflower, Fuchsia, Dahlia, Pancy, Petunia
 Perennial flowers – Daylily, Geranium, Lavender, Blanket flowers, Phlox, Cornflower
After deciding about flowers, you can buy seeds or young flower plants from the garden stores. When considering about seeds and young plants, buying young plants is easier to grow than seeds. Growing young plants save your time. Seeds can be cheaper than young plants. You should make sure to buy health plants.
5. Plant the flowers
Planting flowers in the morning is good. If you brought a young plants, you should remove the container carefully. It should be taken out as not damaging the roots.
How to plant the flowers?
Then dig holes at least 5 or 6 inch deep in the selected ground that should be sufficient to grow young plants in there. The girth can be vary due to the nature of plant. Now you can put the plant to this hole and roots should cover from soil. Compost is best to apply with soil that helps to keep the plants healthy.
When planting seeds, you can follow the instructions labelled on the seed packet. Before planting seeds, you can germinate seeds in the right place and after starting to grow they can plant in your ground.
6. Water the planted flowers
After planting, you should water to the flowering plants. Overwatering can be harmful to the plants and when you sowed seeds, don't water more. Water the plants slowly. Frequent watering is essential until the plants grow. Don't let the soil too dry and too wet. It can be caused to damage the roots.
7. Take care of the garden
The plant take time to grow well and seeds take more time to plant. You should care the plants daily. You can get more results as you wished by watering, removing weeds, checking the soil moisture, providing suitable nutrients and so on. They must be protected from diseases.
You can get a colorful garden if you maintain it properly.  
Watch easy flower bed for beginners guide| Video
What are the easiest flowers for beginners?
There are so many types of flowers that can be easily start by beginners. Some of them are marigold, sunflower, zinnias, morning glories, lavender, begonia, impatiens, daylilies and geranium etc.
Is mulching good for flower bed?
Yes. Mulching helps to keep your flowers healthy in various ways. That is very important to prevent from weeds. It also maintains soil moisture and enhance the soil fertility.
What can use for border in flower bed?
You can create the flower bed by adding border. Wood, bricks, natural rocks and decorative stones really enhance the beauty of your flower garden.
Can start a flower garden indoors?
Yes of course. You should provide the things that needed to flowers to grow indoors. Indoor flower gardening really helps to beauty the living place and purify the air.  
What flowers grow from seeds?
Sunflowers, cornflowers, calendula, annual phlox, cosmos, marigolds, nasturtiums and zinnias are some flowers that can grow from seeds in the garden.
Conclusion
By reading this guide, I hope you got the full idea of How to Start a Flower Garden: 7 Steps for Beginners
Please share this How to Start a Flower Garden: 7 Steps for Beginners with your friends and do a comment below about your feedback.
We will meet you on next article.
Until you can read, 15 Easy Herbs to Grow Indoors for Cooking and Medicinal Uses