Think differently about designing the garden. To create a beautiful garden, tires play a major role. Tires are great addition for garden. It is a really pocket friendly way because helps to save money on the cost of purchasing different things to decorate the garden. Get it free since you can use all used tires.
Don't waste used tires at any time. It is not issue that the garden space is small or large. It may be a warm welcome to guests for the garden. They will be also impressed. There are plenty of ways to beautify the garden with tires. By reading this guide, you will be able to know, 13 Tire Garden Ideas for Home: How to Use Tires as Planters.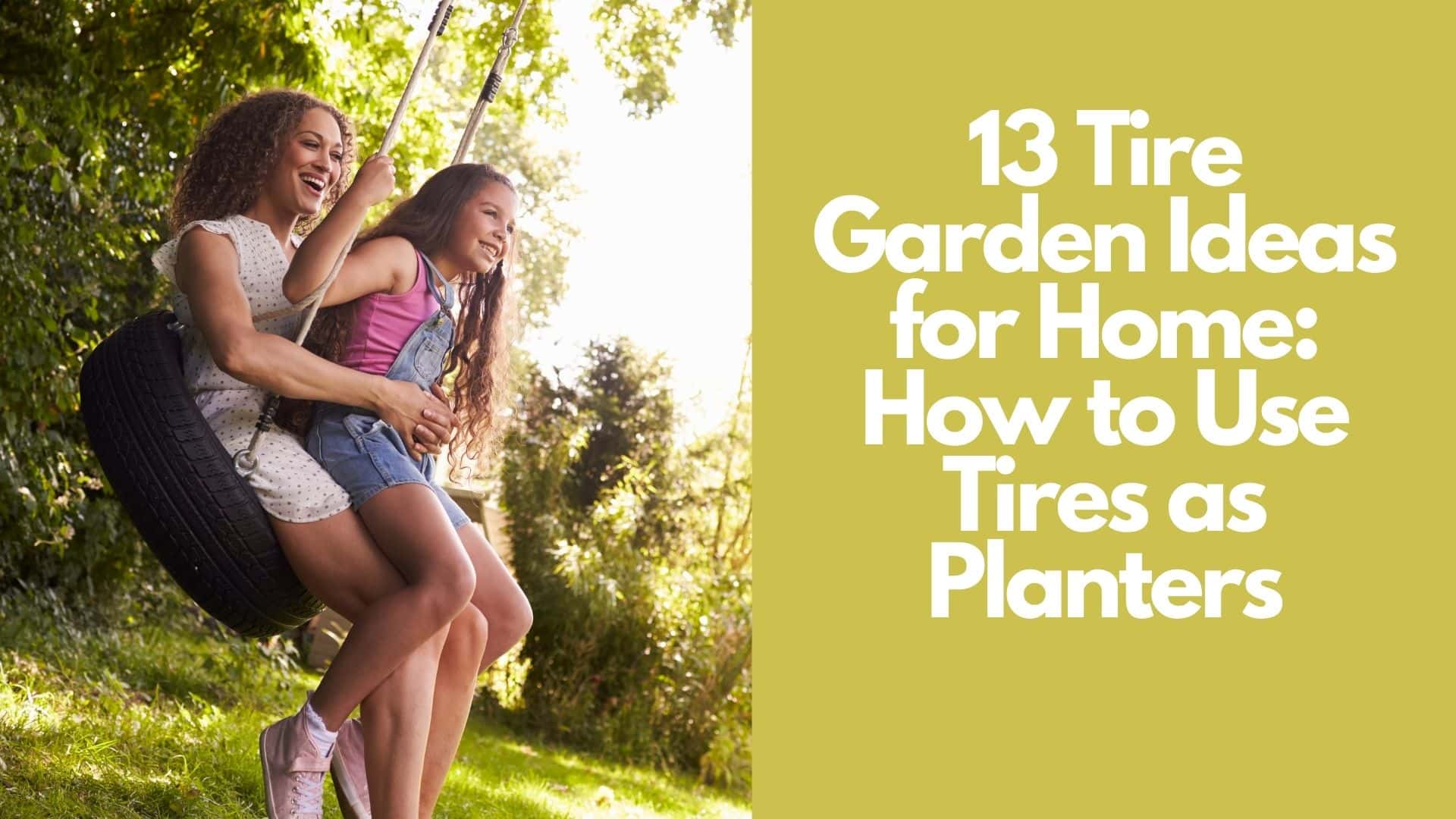 Let's start,
1. Garden Tire Fence
You can use tires and add a fence to your garden. Although it is not much successful as a fence, it brings a colorful feel to the garden. The tires should be painted in different charm colors. Try this design which is really low cost method.
How to keep tire fence away from mosquitoes?
Actually mosquitoes prefer to live in the place where water collected. Mosquito larvae can be mostly seen in these places. Be sure to drill the several holes at the bottom of tire that helps to prevent from retaining water on rainy days. Then mosquitoes do not breed.
And another special thing you need to know is paint the light colors in tires of your garden fence. Dark colors attract mosquitoes because they love dark so that don't keep them in black or any dark color. Keep in mind to spray light color paints to your tires.
2. Compost Bin
Compost plays as a natural fertilizer. It really helps to enrich the soil quality. As a garden lover, you know the benefits of composting. So, gardeners usually make a compost bin in their garden. The compost bin can be made using different things. Used tire can also make a compost bin.
The size of compost bin varies depending on the number of tires you use. You can use a lot of tires at once or can add one by one tire when the compost is full. It decides on the number of tires you have. It is great to cut the sidewalls using sharp knife or saw.
3. Outdoor Tire Swing
Outdoor tire swing is another great addition to the garden. Even kids will be delighted with its swings that's why this is different from other swings. The simplest ways of tire swings are one rope tire swing and horizontal swing. When considering to one rope tire swing, the heavy rope can be fitted to the tire without making holes. Horizontal swing is most common design use in gardens. Make holes and a rope passing through these holes and it is fastened tightly to a tree. Then add cushion to fit with tire that feels comfortable sitting down.
Where to hang the tire swing?
It is important to select a mature tree to hang the tire swing. The tree should be healthy, large and sturdy. Using strong rope, tire swing can hang in a branch. If your garden haven't a suitable tree to hang it, use another stand that must be able to bear some weight. Hang the tire swing on the tree or selected stand at a certain height from the ground level.
What are the types of tire swing?
There are so many different types of tire swings. You can also design your tire swing as your preference. Some of them are,
One rope tire swing
Double level tire swing
Tire swing with cushion
Horse tree swing
Horizontal tire swing
Nest style tire swing
4. Flower Shaped Planter
Tires can be also used to create a flower shaped planter. Nowadays this is very popular in most of gardens. You can also design a flower shaped planter because it is really easy to create. Cut the used tires in half and place them in the shape of a flower. That can be small or large due to the variety of tires you taken. If you think it's too big, you can make another one inside large planter. However small tires should be used to inside flower shaped planter. Grow flowers in there and enjoy the beauty of garden.
5. Wishing Well
Add a beauty to the garden by making a well. Make this using waste materials. It is good to reuse the old tires in your home that's why these tires can take a new look by painting. Usually well is painted brown and white in order to get the look of bricks. It can make even a small hut out of wood planks and fit it to tires. If you like, use lights to illuminate it at night.
6. Hanging Tire Planter
Hanging tire planter is great to plant flowers because it provides uncommon design to your garden. It really works as a hanging basket. This planter can hang next to the wall or in tree or anywhere you like.
How to design hanging tire planter at home?
You can take the whole tire or cut the tire in half and use it. Both bring a gorgeous look. Create it in less time. The whole tire planter can hang with a rope and to hang a half tire planter, need to pierce both sides and apply a hook. It is better to use stronger hook.
Making drainage holes at the bottom of tire helps to prevent from to prevent from excess water and root rot. Enhance the appearance of the hanging tire planter by spraying different paints as your preference. Fill the tire with soil without letting it fall out. Then plant beautiful flowers there.  
Which flowers are suitable to plant there?
Fuchsia
Million bells
Petunia
Impatiens
Begonia
Petunia
Geraniums
7. Tire Chair and Table
There are brilliant ways to design outdoor table and chairs using tires. It really brings a natural look to your garden. Think in creative mind.  More than 1 tire need to create them. So collect used tire and make. Instead of throwing used tires, use them for valuable work. Paint them as your preference. Kinds will also happy. The easiest way is to build that the tires put them on top of each other. After you can add a cushion into the hole.
8. Coffee Cup Planter
Coffee cup planter is fascinating. Everyone loves to make it. Use electric saw to cut the tires properly to make cup, handle and saucer. Actually electric saw makes the works easier. Paint it using different charm colors. After making this, you can add soil into this and grow plants. Someone place it in their garden without growing plants but plating here is great. It can be done as your discretion.
9. Scalloped Tire Container
This container can be created by cutting the top of tire. This scalloped container improve the look of garden than normal tire. It can be successfully cut by drawing the pattern correctly on tire. Paint it that makes it more and more beautiful. It is generally used to grow plants.
Which vegetables are suitable to plant there?
Tomatoes
Lettuce
Onions
Spinach
Potatoes
10. Pyramid Planter
It is common component that is made using tires. Every tire can grow plants.  Remember to place the tires on the top of each other as much as possible. Any number of tires can use to crate pyramid planter. The, paint them using different colors which enhance the beauty of pyramid tire planter.
11. Tire Garden Art
There are lot of designs in garden art that can be created in your garden. Kids also love it very much. You can enhance created garden art by painting and be sure to match the paint carefully.
What kind of creations can make from tires as an art?
The garden arts can be designed to your preference and followings are widely used in the gardens.
Animals shaped décor – Ladybird, Flamingo, Frog, Bear, Zebra, Alligator
Cartoon characters décor – Minions
What are the benefits of tire garden art?
Enhance the beauty of garden
Save money of buying garden decorations from stores
Able to take attraction of guests  
Being able to have kids happy and enjoy
Prevent from tire wastage
Avoid from troubles caused by tires being added to the environment
12. Garden Stairs
This is another simple method which can used to go from one place to another. The tires should be placed in the relevant place and the soil should be filled. These tires do not require painting because it can get dirty soon when walking over these tires.
13. Backyard Tire Water Feature
Water features absolutely enhance the beauty of the garden. Making water feature is not difficult as you think. The pond can easily made using old tires.
How to easily make a pool using tires at home?
Dig a hole in the ground you selected and level it well. Put sand to it. Then insert the tire that upper part of the tire should be cut by saw. And be sure to clean the tire well. You can wrap it or paint. Fill it with water after inserting the tire to hole. Then fit outside properly. You can decorate it in various ways. Not only that, you can make it without digging a hole. That also looks great.
Watch how to make a tea cup planter using old tires | Practical video
Are tires toxic to vegetable gardening in tires?
It really depends on type of the plant grow in tires.  Vegetables that can be harvested quickly are not issue because tires may release chemicals over time that can be harmful to human body. This toxicity issue mostly affects long term vegetables. Therefore, the most suitable plant for tires are flowers. They grow well in the tires and beautify the garden.
What need to make hanging tire planter?
There are some materials needed to make the hanging tire planter at home such as Tire, Drill, Heavy rope, Spray paints, Potting soil and flowers to grow. The simple hanging tire planter can be created using these materials.
Where to put tire compost bin?
Keep your tire compost bin in a place where it is normally exposed to sunlight. But it does not need a lot of sunlight that's why the heat of tires stays a fairly long time. It is also best to keep in a convenient place where disposable items of the garden or kitchen wastages can be easily dumped.
Are tire pond good for fishes?
No. Do not add fishes to the tire pond you created because the chemicals may be released by tires over time. Then it can be harmful to fishes. So you can beautify your pond with plants.
Which soil great for tire gardening?
Fill the tire with rich soil to get successful results from your plants. The soil should be well draining and loose soil. If your soil is poor, you can add compost because it helps to provide adequate nutrients to the plants. Use mulch around the plant you grown.
Conclusion
By reading this guide, I hope you got the full idea of 13 Tire Garden Ideas for Home: How to Use Tires as Planters
Please share this 13 Tire Garden Ideas for Home: How to Use Tires as Planters with your friends and do a comment below about your feedback.
We will meet you on next article.
Until you can read, Top 10 Essential Gardening Tools for Gardeners | Guide