Most of people are involved with gardening because they can get lot of benefits from it. Gardening acts as a stress reliever.
It is important to maintain the garden by removing weeds, soil cultivation, watering, transplanting and so on. There are many gardening tools can be used to implement those functions. Each tool plays its specific role.
Every gardener requires gardening tools to perform their works perfectly. Those gardening tools can purchase from gardening stores, hardware stores and any other places. By reading this guide, you will able to know, Top 10 Essential Gardening Tools for Gardeners.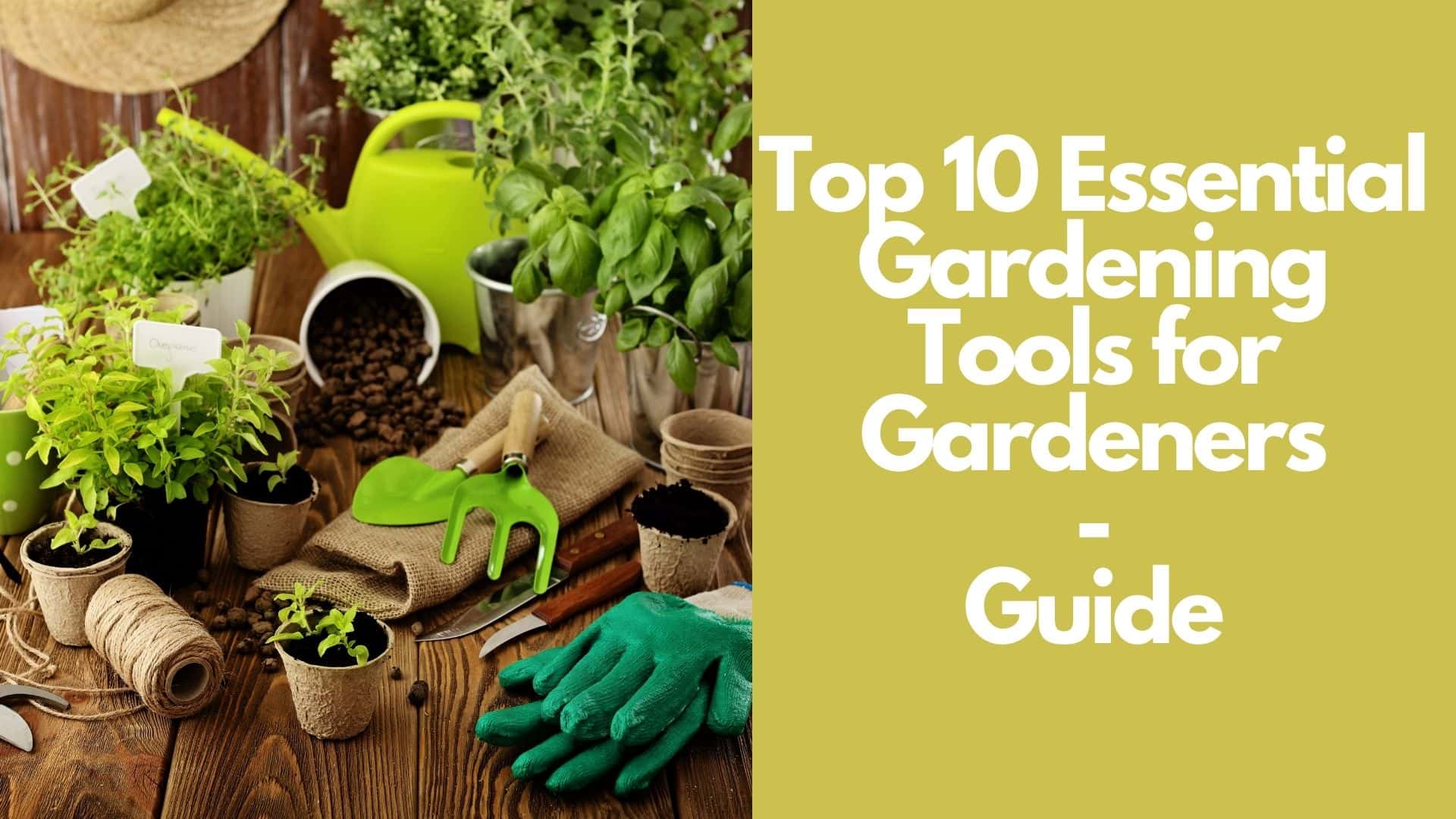 Let's start,
Top 10 Essential Gardening Tools for Gardeners
1. Hoe
Hoe is an essential tool and used in gardening since ancient times. It has become an indispensable part of the garden. Lot of works can be done by hoe. The hoe is designed with long handle and flat blade.
Why hoe is important to gardening?
It always makes the works easier and very important to prepare the garden. It helps to cultivate the soil in various ways such as shaping, clearing, stirring up and loosing up the soil. Removing weeds is another benefit of hoe. A comfortable handle and sharp blade help to works done easily and comfortably.
There are so many types of hoe available in the market and you should select best one according to your choice and that should suitable for work. Draw hoe, stirrup hoe, flat hoe, sweeping hoe, reciprocating hoe, square or wide hoe are some types of hoe. These different hoes perform their own specific roles. It is important to use different hoes depend on the gardening type.
2. Shovel
Shovel is a versatile tool used by gardeners to move soil, compost and mulch. Turning and mixing the soil is also done through this. The shovels are designed to be suitable for both indoor and outdoor gardening.  The slightly cupped blade is better than flat blade. Strongest handle also need because moving tough soil need a big force.
You should select a shovel according to your height that makes you comfortable. High quality shovel is great to buy. The shovel which included rounded edge is helpful to mow the law.
3. Wheelbarrow
The wheelbarrow is closest friend of gardeners because it plays a vital role in the garden. It enables to move quickly something from one place to another place. It usually transports compost, extra soil, mulch, fertilizers, raked weeds, concrete, toolbox or anything that you want.
This is practically essential tool. Sturdiness and dependability are important factors that you should consider when purchasing a wheelbarrow. There can be seen different types of wheelbarrows made by steel, wooden and plastic.
What are steel wheelbarrow and plastic wheelbarrow?
Steel wheelbarrow has been traditionally used since ancient times. It is very strongest wheelbarrow so that can carry even heavy loads. It is possible to move rocks, large plants, timber, sand and cement etc. from one place to another. But the only drawback of steel wheel barrow is potential to rust. It is important to protect from rain.  
Plastic wheelbarrow is cheaper than steel wheelbarrow. It is widely used in present and comes in variety of sizes and colors. This is not suitable to carry heavy items whereas best to carry light weights such as empty pots, weeds, mulches and so on. It is comfortable for every gardeners to use.
4. Secateurs
Secateurs are also known as pruning shears and also hand pruners. It is like a scissor because it is short handled and operated with one hand. This is significant tool to prune branches of trees and shrubs. It gives shape to the plants.
Removing damaged or death foliage, controlling overgrowing plants, cutting thorny plants and thick branches are some advantages gained by secateurs. When purchasing a secateurs you should pay attention that fit with your hands comfortably.  Anvil secateurs, bypass secateurs are varieties of secateurs.
5. Gardening Gloves
This is great to protect from thorns, sharp objects, splinters, blisters and chemicals or any other thing when gardening. The gloves helps to keep dirty away from hands and protect from fungal infections.
What to consider when choosing gardening gloves?
You should select best gloves according to your preference and nature of the garden. There are lot of types of gloves available in the market. Most common gloves are made by cotton fabric and leather, rubber or disposable gloves are also available to buy.
The fabrics helps to keep your hand comfortable. Sometimes get hotter when working so that hands can get cool from using breathable material gloves. It is important to use best gloves when using concretes. Cotton gloves cannot gives you better protection from gardening hazards whereas leather gloves can use also hard works.
It is possible to wear gloves on both hands to keep hands safely. The gloves should be flexible as well as durable. After gardening, it is better to wash the gloves and keep them in an appropriate place. The gloves that extended to the wrist provide good protection.
Whatever types of glove, this should be fit properly to hands. There are lot of sizes designed for both men and women hence you should select the perfect size among those.
6. Garden Hose
Watering is an essential for survival and growth of plant. Gardeners use several methods to water plants.  Among them, garden hose a very beneficial tool and that is more flexible. This is connected to a tap or any other place that supply water. Then it can easily spread water to garden, lawn care or wherever you want to water. The adjustable nozzle in the hoses helps to control the speed of water.
It is important to focus on its length, width, strength and so on. The length should be suit with girth of the garden but too long hoses are not so good. The hoses are typically made by rubber, vinyl and combination of both. Flat hoses, soaker hose, sprinkler hose and pocket hose are some kinds of hoses.
7. Watering Can
Watering can is also used to accomplish the purpose of watering and providing moisture to the plant. It consists with a handle, vessel, spout and shower.
This versatile tool can be used in both indoor and outdoor gardening so that it is well suited with the balcony gardens. It is effective to supply right amount of water to specific plants through this portable container. Not only watering purpose but also water can use for the decorative purpose. We can see different cans which produced by plastic, glass, metal, ceramic or zinc etc.  It is good to choose best one according to someone's strength.
8. Garden Fork
Garden fork is one of wonderful tool that helps gardening in various ways. This is made up with a handle and sturdy tines. Usually there are three or four tines in the fork.
What are the uses of garden fork?
This tool is essential for preparation the soil by breaking up, digging and turning the tough soil. Removing weeds is another important advantage that can be gained through fork. Sharp and strong tines can be used to create holes in the soil for planting seeds. When considering about transplanting, fork does a great job because it is useful to avoid cutting the roots. In addition it functions as mixing some fertilizers into the soil around the plant.
There are several types of forks in stores and you should consider about its durability as well as strengthen of tines before purchasing.
9. Rake
Rake is another tool that gardeners can use to make their works easier. It is enclosed with cleaning functions. This is used to clear the garden before and after planting. There can be unwanted things in the garden such as weeds, debris, straw, dried leaves, dead plants. Rake is important to collect and remove those unnecessary things. It also useful to remove stones and gravels from soil that supports to level the surface of soil when planting.   
When paying attention to features, the steel tines in the rake are more strengthen than plastic tines as well as lightweight handles makes it easy to use.
What types of rakes are most commonly used in gardening?
There are many types of rakes and each one performs its own functions. Primarily 2 types of rakes are often used in gardening such as,
Lawn rake – It is also known as leaf rake that is useful for removing fallen leaves without damaging the soil or lawn.
Bow rake – This is used in shaping and spreading mulch, compost, gravel as well as levelling the soil.
In addition them, shrub rake, hand rake, thatch rake, roof rake, hay rake, landscaping rake are also used in gardening.
10. Hand Trowel
It is a great tool used in planting, transplanting, soil cultivation, potting and so on. In gardening, there should be mix fertilizers into the soil around the plant so that hand trowel enables to do this function properly. Digging and removing deep rooted weeds can be also done by using this tool.  In soil cultivation, that allows to create holes in soil when planting seeds. This hand tool is very useful to avoid from fungal infections.
There should be strengthen between handle and blade. There are many shapes and sizes of trowels. Trowel that made by stainless steel material is very popular in these days. You should pay attention to blade that suit with your purpose.
Watch here to get understand how to choose gardening tools for your vegetable garden | Video
Can work in garden without wearing gloves?
Yes you can. But recommend to wear gloves when gardening. Because there are some reasons. There can be number of harmful bacteria, fungi and microorganisms in the soil. Infections are more likely to occur. Wear gloves to prevent your skin from thorns, poisonous weeds and so on.
What is Dutch hoe?
Dutch hoe is most common and easy to use tool in the garden. It has sharp and wide blade. This tool is great to eliminate weeds around the plants. Dutch hoe is used to cut the roots of weeds with a pushing action under the surface of the soil.
What is the difference between bypass and anvil secateurs?
Bypass secateurs is used only cut the young or soft wood materials in the plant. Cut living plant tissue. It is not suitable to cut dead wood branches. And the anvil secateurs use to cut hardier branches, woody stems and dead wood in the plant.
What is the purpose of garden spade?
Garden spade is very perfect for planting. It helps in turning the soil, reshaping the beds, removing sod and digging planting holes and so on. This tools is also very essential tool to every gardener.
What to consider when buying watering hose?
The watering hose should has proper length and diameter that help to reach each and every plant in your garden. If it is made by durable material, you can use it longer. It is also important to be able to bear the water pressure. Consider about the strength of hose. And pay attention to the nozzle options. Then you need to consider about the length, diameter, material, strength and nozzle options of the hose.
Conclusion
By reading this guide, I hope you got the full idea of Top 10 Essential Gardening Tools for Gardeners.
Please share this Top 10 Essential Gardening Tools for Gardeners with your friends and do a comment below about your feedback.
We will meet you on next article.
Until you can read, 12 Different Types of Gardening Methods for Your Home