You do everything you can to ensure the health of your plants. Give them what they need regarding nourishment, water, and attention. Some people believe that watering plants with cooler water can help them withstand hotter days and encourage flower blooming. So, how do plants react to cold water? Using cold water to water plants can lead to damage.
Don't worry too much. On the other hand, your plants can recover. The plant's recovery will also rely on how much harm it sustained from the chilly water. Some plants are more resilient and able to bounce back from adversity than others. By reading this guide, you will be able to know, How Does Cold Water Affect Plant Health?.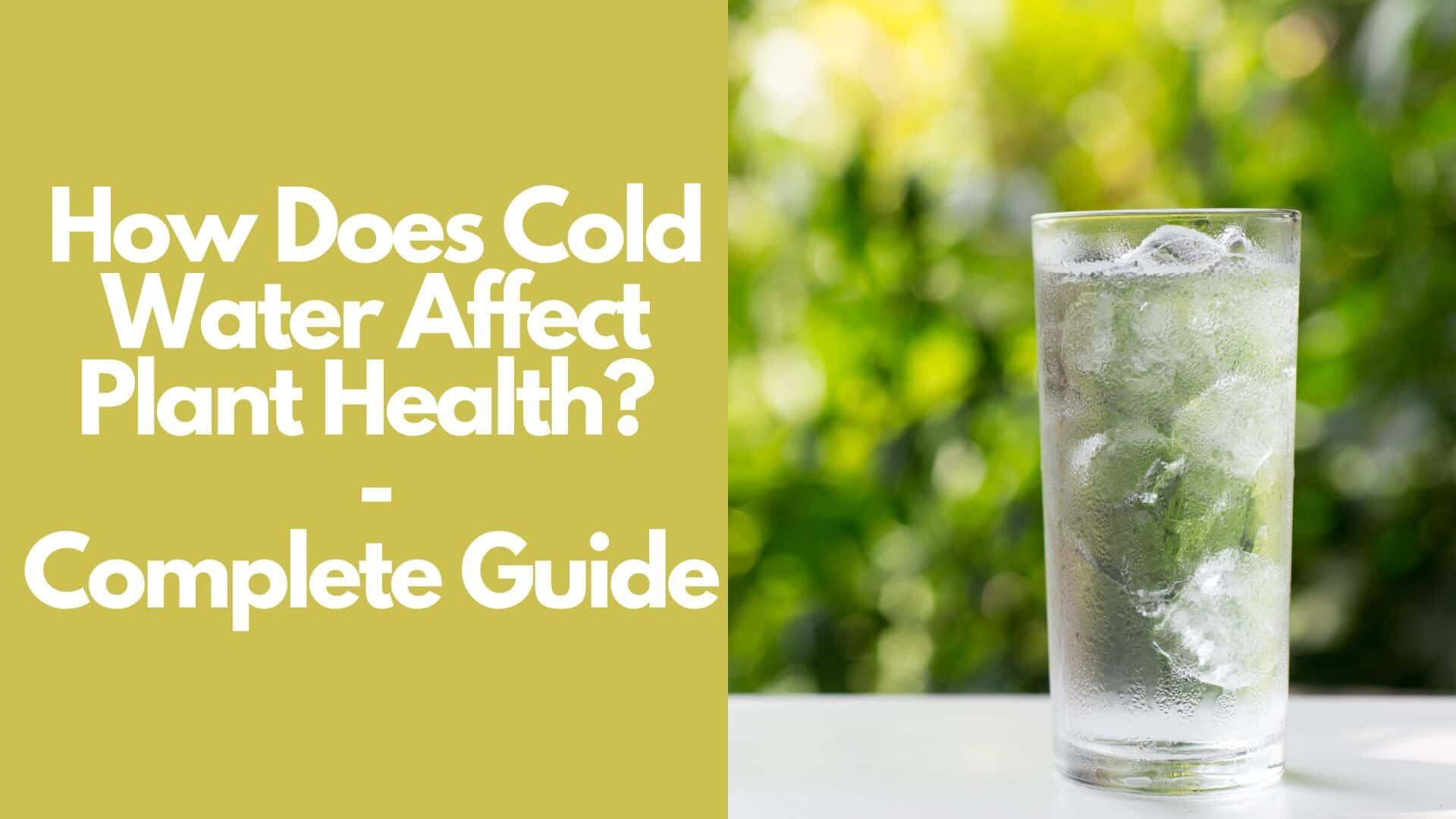 How does the water temperature impact the plants?
When it comes to watering plants, the temperature has an impact. Too much heat causes water to evaporate from the soil, preventing the plant from obtaining the hydration it needs. When the temperature is too low, the plant may be unable to absorb water from the ground.
Some of the impacts of temperature on plants can mitigate if you keep your plants away from cold drafts or hot vents. Their soil must remain equally hydrated when it dries up.
Feeding plants should generally do at a temperature between 62⁰F and 72⁰F; this is the best temperature range for water. It's best for most plants to water at 68⁰F because this temperature encourages oxygen intake and root efficiency.
Make careful to water your plants with room-temperature water to avoid damaging their roots with cold water.
How to know if plants need water?
You can also wonder about how much water to use, how often you need to do it, and getting the temperature perfect. When it comes to watering, each plant is unique, and some require more attention than others. It would be best if you learned about the watering requirements of your particular plant.
Your plants will die if you don't water them adequately. As a result of over watering, the foliage of your plants may turn brown, and the roots may rot. When bacteria multiply in the soil, the roots deteriorate and cannot take up nutrients.
You can tell if your plant needs water by inserting your finger into the soil. You should water your plant if the ground seems dry to the touch. Your plant doesn't need to water if the soil is already saturated.
Adding to that, the ideal time of day to water plants is often in the morning. Watering most plants later in the day or at night is not recommended.
Is it safe to use cold water to water plants?
Using cold water to water plants is never a good idea. Cold water, like hot water, has the potential to harm plants. Like hot water, cold water has a detrimental effect on the growth of plants. But the damage that cold water inflicts on plants is minimal.
On the other hand, water that is only moderately cool will signal the roots that they should avoid absorbing the water. As a result of dehydration, plants will ultimately die.
Use water that is 62⁰F-72F⁰ at room temperature. Some sources of water at this temperature are rain and tap water.
For plants to survive, they require sunlight, nourishment, healthy soil, and water. Most people responsible for taking care of a plant don't give a second thought to the temperature of the water they use. Different difficulties can arise if the water is too hot or too cold. How healthy your plants are can also depend on what time of day you water them.
What are the symptoms of watering plants with cold water? 
There is a possibility that the symptoms you observe and the severity of the condition will vary from plant to plant depending on the particular vulnerabilities those plants have and exposure time. If you water your plants with cold water, you may experience some of these symptoms.
1. The root ball becomes loose.
The health of a plant's root ball closely relates to the state of its root system. Moving the plant will allow you to feel the root ball. A badly damaged plant will have a loose root ball that can move around quickly.
The roots will also fall inactive and unable to take in the nutrients and water they need to grow. Your plant may appear malnourished and depressed.
2. Plants go dormant. 
One drawback to using cold water to water your plants is that it can lead them to fall into dormancy. It means the plant will behave as if it were in the middle of winter. A lack of movement will make your plant appear drab and lifeless.
3. Leaves display discoloration. 
White or yellow dots may appear on the leaves when they perish. Some plants have leaves that turn a reddish-orange color. Some leaves turn a different hue from head to toe, while others have a few damaged areas. Initially, it may be difficult to estimate the full extent of the harm.
4. Leaves wilt and droop. 
The leaves will lose their firmness and begin to droop or even curl in on themselves due to the cell damage because cold water gradually shocks the plant.
5. Stop blooming.
Plants might go dormant if the water is too cold. If you use cold water to water your plants, you risk putting them into "winter mode." Even if they stop growing or blooming, they won't necessarily die. In general, avoid watering flowering plants with cold.
6. Foliage turns soft and black.  
Also, sections of the plant turn black and soften when cells die. It is most likely to happen in the most catastrophic of circumstances.
How do you revive shocked plants caused by cold water? 
For a plant to recover from being shocked by cold water, it needs constant care and patience.
Continuous monitoring of the plant's health is essential during the healing process to prevent the harm from worsening or spreading. Damage to the affected portions is permanent; thus, the goal is to safeguard other parts of the plant.
Checking the health of its root ball will be a good indicator of its overall well-being. When a plant shows signs of healing, like new growth, it's likely recovering well and will soon begin to repair the damage with fresh sprouts.
The safest way to help your plants recover is to use the strategies listed below.
1. Place the plant in a warmer place.
Your plants should protect from additional harm if you relocate them to a more secure location. Plants in pots can move to a position that receives sunshine if you want them to thrive.
After transferring the plants to these locations, you can use additional heaters to keep them warm.
2. Avoid fertilizing plants.  
Even though fertilizer may provide a beneficial rise in nutrient content for the plant, its use is likely harmful. New growth will encourage the plant to divide its energy from recovery, decreasing its overall health.
3. Trim dead roots.
It's a good idea to remove dead roots and repot your plant if you notice that the root ball is loose in its pot. Removing the plant from the container and removing any evident dead roots may help rescue it. Water your plant thoroughly and then repot it. Your plant may be able to live if enough of its root system is unharmed.
4. Water the plants gently.
Watering your plants may not seem like enough, but it is the best thing you can do for them. Like any plant, it will benefit from standard watering practices when water is applied directly to the leaves and stems.
When a plant is under shock, it loses water, so giving it an inch of water helps it rehydrate.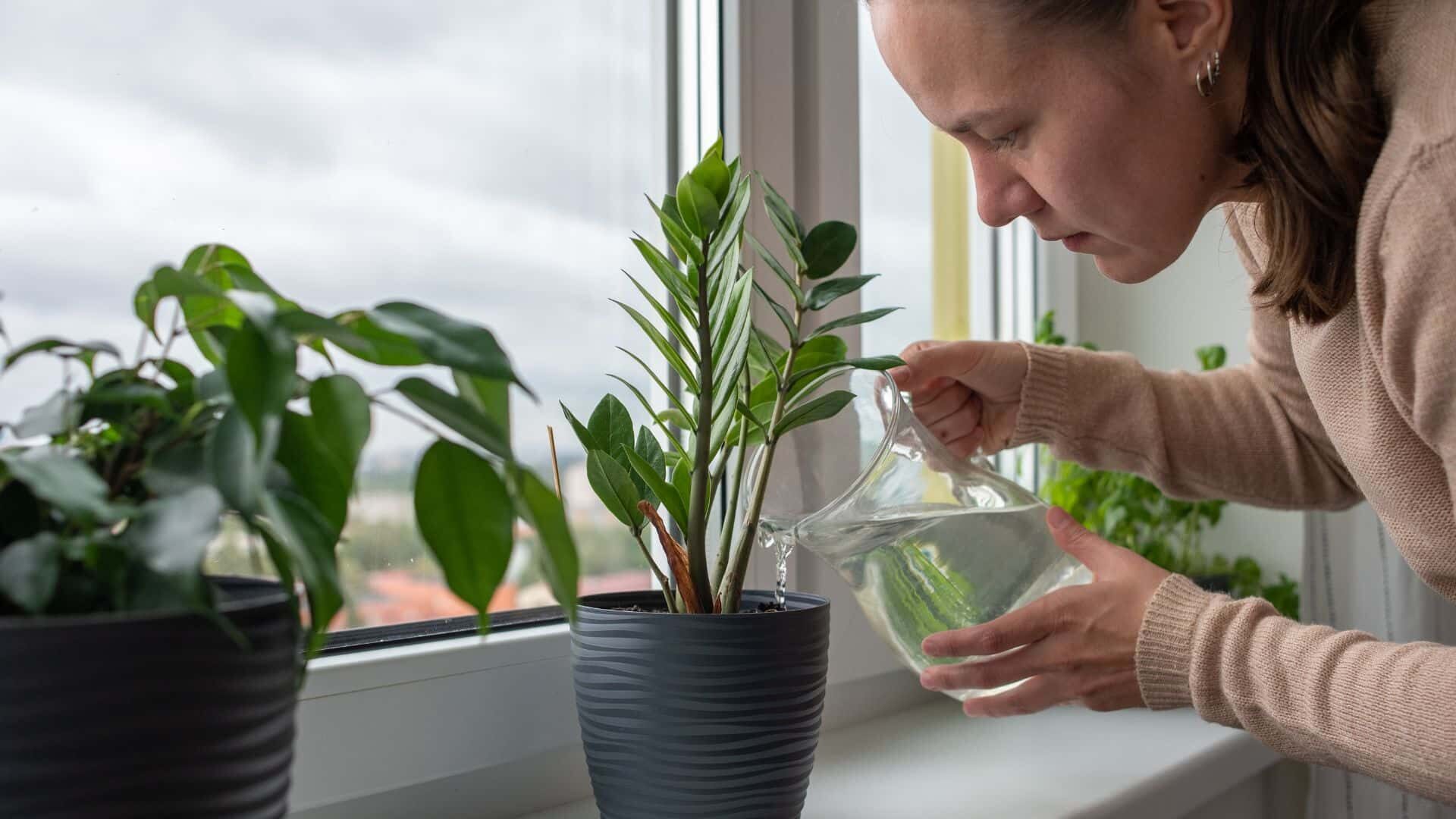 5. Stop pruning and thinning. 
As a result, the plant will be subject to even more trauma and new development, as well as the loss of any dead or damaged leaves that serve as additional layers of protection and insulation from the cold. Pruning the afflicted portions that haven't fallen on their own should be delayed until the weather warms up. As a result, don't forget to factor in the local climate.
What are the best types of water for plants? 
If you're watering your indoor plants with the faucet or your outdoor plants with the hose, it's unlikely that you'll be taking the temperature of a sample each time. There are several ways to ensure that your plants get the right amount of water at the right temperature.
1. Well Water
Well-water can be a cost-effective way to give plants nutrient-rich water that contains minerals like calcium and magnesium and has a pH of 6.5 to 8.0 or higher. In addition, well water must first analyze to ensure that it does not contain any biological or chemical contaminants that could impair the growth of plants before use.
How to use
It would be best if you run regular tests on the water that comes from your well, or you may use a reverse osmosis filter to purify the water.
2. Rainwater
When watering your plants, it's probably preferable to utilize rainwater. Your plants will thrive in rainwater since it is generally at a temperature that is just right for them.
How to use
Every time it rains, try to keep a few buckets outside to collect the water. Keep a small amount on hand for your interior plants and your outside ones.
3. Spring Water
Spring water is a low-cost solution for watering plants. Untreated groundwater is the source of spring water. Because it contains more oxygen than conventional tap water, spring water is better for plants than filtered tap water.
How to use
Spring water can use to water fruit, flowers, and vegetable plants. As a result of the minerals found naturally in spring water, plants grow more robust. It may not be necessary to give the soil enough nutrients to eat.
4. Tap Water
There are certain drawbacks to using tap water for your plants, but it is the quickest and most convenient method of obtaining water. With tap water, you can use it for both outdoor and indoor plant watering.
How to use
Using the sink's tap water gives you more control over the water's temperature. 
When the weather isn't optimal, you may be unable to use your hose's water. For example, water might be hot in the summer or cold in the fall and spring. Before watering your plants, try filling your watering can and letting it sit for an hour. If the water temperature isn't too hot, you can begin watering your plants by putting your hand in the water.
 After you've finished watering your plants, be sure to refill your sprinkling pot from the sink so that you don't have to wait until the next time you water your plants.
5. Distilled Water
Purified water, such as distilled water, is made by first heating water to a high temperature, then removing the steam and condensing it. Purified water for plant irrigation can potentially reduce toxicity by removing impurities that could otherwise accumulate.
How to use
Most grocery stores have distilled water, but you can create your own if you like.
Distilled water is more beneficial to the plants' growth. Even though that sounds encouraging, many plants do not mind being watered by taps. Excess minerals and pollutants can filter out of the soil by plants on the ground.
Trapping harmful pollutants before they accumulate to dangerous levels is the purpose of the container. Your houseplants are the most obvious beneficiaries of using distilled water in your home. Plants don't usually require purified water. Keep an eye on the growth and color of the leaves; if any sensitivity develops, switch to distilled water.
Watch what happens when watering plants with ice cubes | Video
Is it good to use ice cubes to water plants?
Once a week, all you need to do is place two giant ice cubes at the base of your plant to keep it hydrated and happy. This method allows the plant to absorb all that water gently but steadily. In addition, this will assist prevent any unsightly watering overflow.
What plant requires ice cubes?
A widespread technique is to hydrate orchids with ice cubes. You could water succulents and other plants that prefer moderate watering with ice cubes in hanging baskets, although this method is most commonly used to water orchids.
Is it safe to use tap water for flowers?
Chlorine and fluoride in municipal tap water can harm plants and degrade the color of flowers.
How long may tap water sit before being used to water plants?
As a result of using tap water, your plants may not be able to reach their full potential. At least 24 hours before you use your tap water to water your plants, allow it to set out for a few minutes to remove any hazardous contaminants. As a result, chlorine can dissipate.
Is it harmful to use warm water to water plants?
Watering your plant with hot water will have no negative consequences if you don't overheat the roots and keep the leaves and crown from scorching. In reality, watering with hot water is preferable to watering with very cold.
Conclusion
By reading this guide, I hope you got the full idea of How Does Cold Water Affect Plant Growth: Guide with Risks.
Please share this How Does Cold Water Affect Plant Growth: Guide with Risks with your friends and do a comment below about your feedback.
We will meet you on next article.
Until you can read, When Do Plum Trees Produce Fruit: 12 Things to Know Guide