Do you know the flowers give many benefits not only for us but also for other living animals? Planting flowers is very important to us as humans in various ways. Boosting moods, reducing the stress or depression, providing exercise are some physical benefits gaining from flowering.  
We also want to keep our living environment beautiful. Growing flowers is great way to fascinate the garden. By reading this guide, you will be able to know, 18 Awesome Flower Gardening Ideas to Try.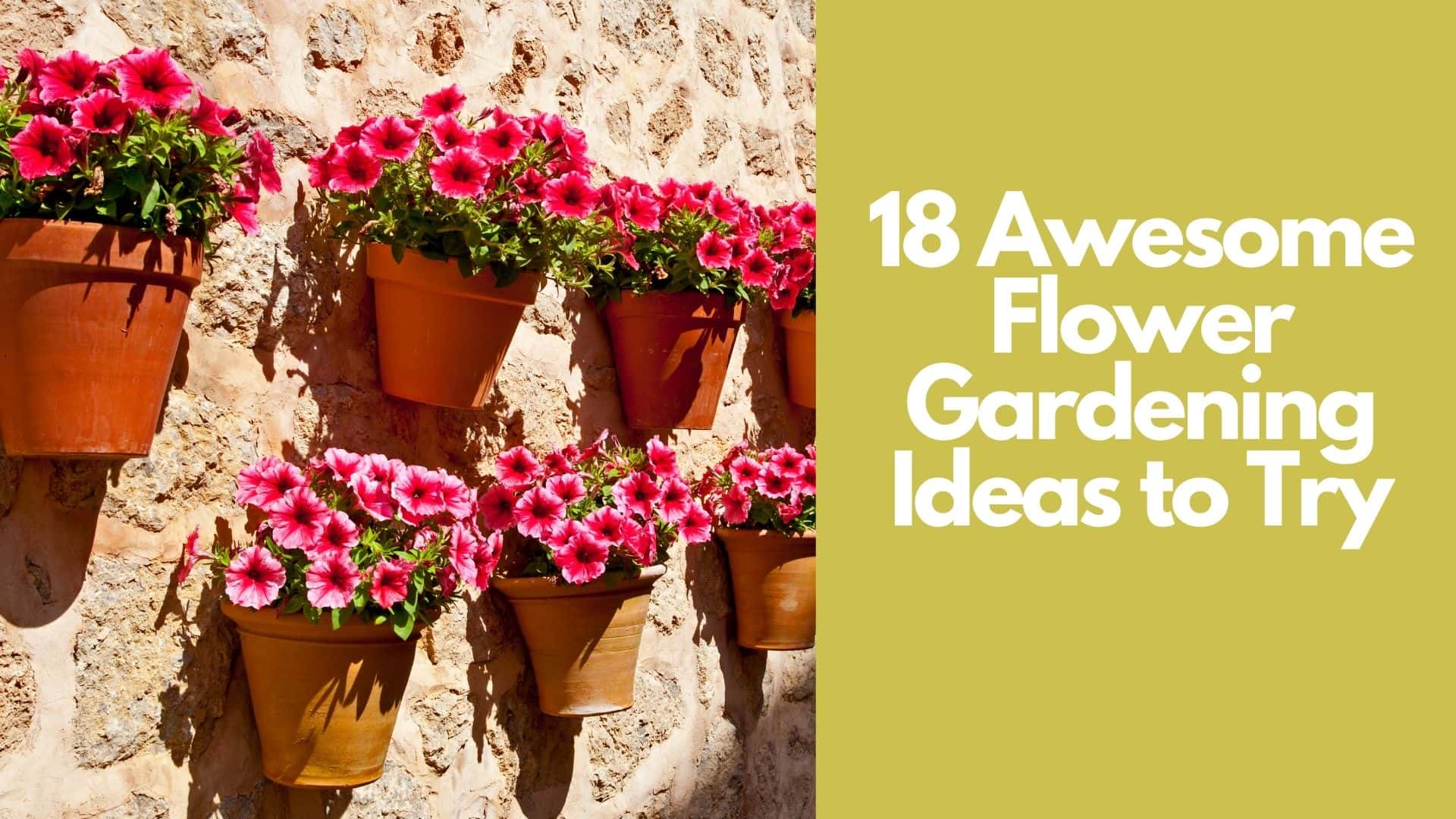 1. Hanging Flower Garden
Growing flowers in hanging baskets is very popular in these days. This container can portable anywhere according to your preference. It can place indoor as well as outdoor. You can decide whether to grow flowers of the single color or flowers of different colors. Also, the place where they are hung must be chosen correctly.
How to make a hanging flower garden?
It is important to choose right plants which suit with particular baskets. Many people use hanging baskets to grow flower plants because it is cost effective and less time consuming. The flowers need more water than in-ground flowers why only a limited soil can be added to the basket.
Some flowers prefer to live in the sun whereas some prefer to shade. So, you will provide adequate requirements for the flowers you selected. Abundant flowers can be produced by using fertile potting mix. To make a fuller plant, there should be used proper nutrients.
Which flowers are suitable to grow in hanging baskets?
There are lot of eye catching flowers that can grow in hanging baskets.
Petunia
Fuchsias
Verbena
Geranium
Impatiens
Pansy
Pelargonium
2. Truck Flower Planter
One of awesome flower gardening design is truck flower planter.
How to make truck as a flower planter?
If you have an old truck that do not use, it is suitable to grow variety of flowers. Not only trucks but also old cars, vans or wheelbarrows can be used for this purpose. Painting the truck helps to add color to the garden. Vintage truck and wooden decorative truck are most popular in gardening. Growing small flower plants with different colors in there create an attractive view.
3. Tire Flower Garden
Tire flower garden is most popular design all over the world. It is not expensive because old tires can use for this. It adds color to the garden by painting it in different colors as you like. Tire flower gardening is relatively easy activity and eco-friendly.
How to make a tire flower garden?
There are lot of designs in tire flower gardening such as tea cup or coffee cup tire design, ladybug tire planter, hanging tire planter, stacked garden tire planter and well tire planter and so on. Tire art can be also done by using several tires. If you have a unique design, it can be created by using tires. And even a cartoon character or anything else can be created. Adults as well as kids prefer to make it because it brings a marvelous image to the garden.
4. Tree Stump Planter
It is a convenient and decorative way to enhance the beauty of the garden. Everyone can easily make tree stump planter.
How to make a tree stump planter?
After cutting huge trees in the garden, the beauty can be lost. But the stump can use to grow flowers which helps to add great look to the garden. Before planting, there should be made a hole about 2 inch wide and having a drainage holes helps to prevent from such issues for the plants.
Which flowers are suitable to grow in tree stump?
Pansies
Marigolds
Petunia
Phlox
Nasturtiums
5. Container / Pot Flower Garden
Container flower gardening is also known as pot flower gardening. It is the most common method used by gardeners.
How to make a container flower garden?
There are lot of varieties in containers in the garden stores. You should select proper container to plant flowers. Although the space of your garden is small, you can grow different flowers in containers as you want. There are cement, wooden or plastic containers available to buy.
To prevent from root rot, there should be drainages holes in containers. Use great potting mix for your containers. It will help to grow the plant healthy and successfully.
By painting the containers, your garden can be colorful. Those can be placed in room, front door, near window, fence line or balcony etc. and the containers can easily move anywhere.
Before planting, it is important to know sun lover flowers and shade lover flowers. Geraniums, Bougainvillea, Cape Daisy, Pelargoniums prefer to sun and Peace Lily, Begonia, Camellias desire shade.
6. Up-cycled Chair Flower Planter
Garden chairs can be somewhat expensive but you can decorate the garden by using broken chair too. Up-cycled chair flower planter is best way to improve the appearance of garden.
Planting flowers on the chair brings a nice looking. You can create this according to your own unique designs. This beautiful art is proper to place in the corner of the garden.
7. Planting Flowers along the Fence
It is a great choice to beautify the garden. This can make even the guests happy. If your home fence is not so pretty, it is best to plant flowers along the fence.
Which flowers are suitable to grow along the fence?
Clematis
Hydrangeas
Azaleas
Roses
8. Butterfly Flower Garden
Butterflies are vital to pollination. They can attract into the garden by growing nectar producing plants or native plants. Backyard is better place to make a butterfly flower garden. Butterflies mostly prefer fragrant flowers and bright color flowers like red, purple and orange etc.
Why butterfly flower garden is good?
Butterfly garden is beneficial to reduce the use of pesticides and helps to plants stay healthy. It also helps to provide accommodation to eggs, larva, adult butterflies. Receiving right amount of sunlight aids in blooming more flowers so that different species of butterflies can attract. Butterfly flower garden provides a beauty to the garden and it is great pleasure when seeing butterflies.
Which flowers attract butterflies?
Butterfly bush
Bee palm
Purple Cornflower
Hyssop
Aster
Marigolds
Lavender
Zinnias
9. Planting Flowers Under the Tree
Planting flowers under the tree is also awesome design. It also helps to save the space your garden has.
How to make a flower garden under the tree?
Before planting flowers, it is important to remove the weeds under the tree and don't damage the tree roots. It can be little difficult to select shade lover flowers but growing is not difficult.
Growing perfectly combined small flowers under the tree bring an excellent look to the garden. To get a neat appearance, you can add a border using pebbles, stones, rocks or anything you prefer. It is very beautiful in growing flowers as a circle.
Which flowers are suitable to grow under the tree?
Anemone
Bergenia
Azaleas
Tree Peony
Primroses
Foam Flower
Impatiens
Yarrow
10. Repurposed Trolley Cart Flower Garden
Garden can be beautified by using old trolleys for planting flowers. It is very attractive way. Growing variety of flowers in the trolley helps to add a color to the garden.
11. Wildflower Garden
Wildflower garden is the place where flowering plants without or less human support. Hence it is very easy to care.
How to make a wildflower garden?
Wildflower garden needs low attention and low cost. Lot of wildflowers prefer to poor soil but majority like full of sun. Compost is best to grow wildflowers. Less watering will not cause any issue. Caring wildflower is really enjoyable. Those gardens usually bring nice natural looking. Flowers can be grown by spreading wildflower seeds.
Which flowers are suitable to grow in wildflower garden?
Marigolds
Zinnias
Tiger Lilies
Coneflowers
Blanket flowers
12. Vertical Flower Garden
Vertical flower garden is also fascinating. It is best option to someone who have a small space. Flowers can be grown on walls, balcony or patio. Wooden boxes or baskets, tins, cans, plastic pockets, pipes, clay pots can use to plant flowers indoor or outdoor. It is easy to create the garden like a ladder. Lot of people prefer this because of it needs a little care to maintain.
Which flowers are suitable to grow in vertical flower garden?
Perennials
Bussy Lizzies
Begonnias
Japanes Iris
Hoya
Ivy Geranium
13. Block Flower Planter
Cinder blocks can use to plant flowers. Its stability is best. There are single or dual blocks available to buy in gardening stores. Cinder blocks really provides a professional look to the garden. You can create it according to your unique design.
Small flowers are most suitable to grow in cinder blocks. Cider block flower garden can be mostly seen in homes, offices, restaurants or any public places because it is very popular in present.
14. Hollow Log Flower Planter
Hollow log flower planter is inexpensive design that you can use grow flowers. It is eco-friendly and gives a natural look to the garden. It can be placed vertically or horizontally anywhere you like. Small plants are perfectly fit with hollow logs.
Which flowers are suitable to grow in hollow logs?
Tulips
Daffodils
Phlox Drummondii
15. Bicycle Flower Planter
Bicycle flower planter is most eye catching design. You can take an antique bicycle to decorate with flowers. Full of bright colored flowers give a great look to the garden.
How to make a bicycle as a flower planter?
Growing flowers in front, middle and back baskets which made by wood, wired metal, mesh or rattan makes the garden even more beautiful. Bicycle color also helps to add beauty. White colored bicycle is really better. You can paint your old bicycle as you like.
Mounting to wall or tree, framing in flowering vines, creating as ghost rider bicycle and filling the bicycle with single colored flowers like pink are some designs of bicycle flower planters.
16. Train Flower Pots
Train flower pots can be made using stumps or wooden crates. Rounded thin wooden slices are used to make wheels of the train. You can decorate it according to the ideas you have. Kids also love this design.
Building a little train planter helps to enhance the appearance of the garden. It is suitable to put outdoor as well as indoor with growing proper flowers. Train flower planter is exactly gorgeous.
17. Flower Garden Pathway
Flower garden pathways are brought a fantastic look to the garden. It is brighten your garden and home. Creating a flower garden pathway is enjoyable and simple. Stones and gravels can use to make pathway and it is better to grow flowers on both sides of the pathway.
Which flowers are suitable to grow in garden pathway?
Tulips
Astilbes
Lavender
Daylilies
Cranesbills
18. Window Flower Boxes Planter
Window flower boxes planter is well suited with someone who lives in urban area because lot of them have limited space. This is also very important to those who live in apartment complexes. You should select proper window box among varieties.
Maintaining the flowers is depended on the flower you selected to grow. Vibrant color mixed flowers are better.
Which flowers are suitable to grow in window boxes?
Geraniums
Impatiens
Petunias
Fuchsia
Begonias
Watch how to make a wood log to plant flowers | Video
Is vertical flower garden easy to maintain?
Yes. Vertical flower garden is really easy to maintain. Be sure to provide adequate requirements of flowers that need to grow healthy.
What are the long lasting flowers for hanging baskets?
Fuchsia, Petunia, Lobelia, Begonia and Bacopa are best last longest flowers which suitable to grow in the hanging baskets.
Which potting mix is best for flowers?
The best potting mix good to contain peat, coir, perlite and vermiculite. This helps to absorb moisture to the soil.
What type of pots are best for flowers?
Terracotta pots are good for flowers that's why these pots can be used for a long time. Choose a pot like this and continue your floriculture successfully.
What can put in the bottom of a container?
You can put a layer of bricks into the bottom of the container for drainage. The bricks will hold water and retain moisture. Hence the roots does not rot.
Conclusion
By reading this guide, I hope you got the full idea of 18 Awesome Flower Gardening Ideas
Please share this 18 Awesome Flower Gardening Ideas with your friends and do a comment below about your feedback.
We will meet you on next article.
Until you can read, How to Get Big Flowers in Rose Plant | 10 Tips Guide