Gardening is an activity of growing and cultivating the plants. That can be more than types of planting flowers and vegetables. You can select suitable one that you needed when start gardening among different types of gardening in there. By reading this guide, you will be able to know, 12 Different Types of Gardening Methods for Your Home.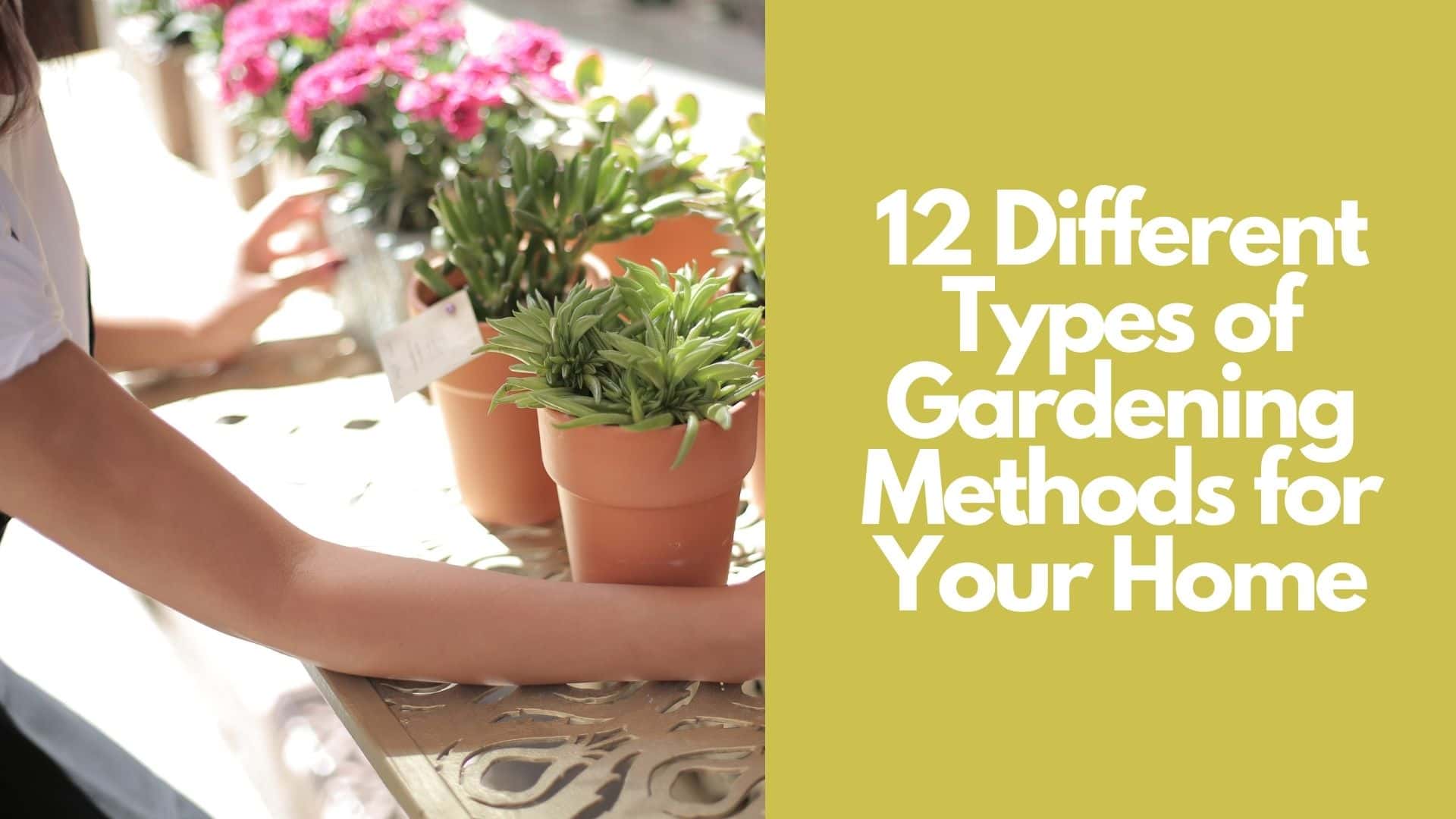 Let's Start,
1. Container Gardening
Container gardening refers to the growing of plants in containers that allows anyone who can easily create this type of gardens. Pots, tubs, hanging baskets, half barrels, tins, boxes, cowboy boots or any other thing can be used as containers.
The variety of containers can be often used indoor as well as outdoor. That is also known as pot gardening. This is really convenient for people who don't have a lot of space for gardening and the soil of their area isn't suitable for gardening.
It is important to select the container according to the nature of plant that's why roots need a relevant amount of space to spread. There should be drainage holes at the bottom of the container that selected to plant.
Growing of Tomatoes, Peas, Lettuce, Radish, Potatoes, peppers as vegetables and Cherries, Blueberries, Strawberries as fruits and Begonias, Coleus, Nemesia, Roses, Hydrangea as flower plants that are well suited for gardening in containers and all of them provided best results.
What to consider when choosing container gardening?
There are few things to keep in mind when choosing containers. A very important point to consider is whether there are drainage holes in the relevant container. They help to keep the plant healthy by draining excess water and retain the moist in the soil.
Size of the container should be suited with the plant you hope to grow. It is important to select a container with right size to grow deep rooted plants. Actually large containers are best to spread roots well. Most of vegetables and fruits want to large containers to grow successfully. When considering the color, light colored containers keep the soil cooler than dark ones.
Decide the material of container which is suit with the plant. There are containers with different materials available in garden stores such as terra cotta concrete, stone, wood, plastic and so on. It may also be beneficial for you to take a container made from a durable material. And light weight container can be easily move anywhere you want than heavy containers.
2. Greenhouse Gardening
Greenhouse gardening is a little different than traditional gardening that is used by serious farmers. This is one of the most popular gardening type of all over the world. It is a method that people used to grow plants regardless of the season. There are variety of greenhouses like wooden greenhouses, metal greenhouses, polycarbonate greenhouses etc.
It is possible to grow any type of plant in greenhouse that may be any type of vegetables, fruits, herbs, flowers or any plant. The purpose of the greenhouse is to prevent from excess cold or heat and unwanted pests. Greenhouse garden can be cheaply or expensively depend on plastic or glass and its attractiveness. This is time consuming but costly one. Mini greenhouse is best way to start with greenhouse gardening because it is more flexible with gardeners and easy to use and less complicated.
3. Indoor Gardening
Indoor gardening can be simply described as growing plants indoors like inside the house, apartment, building, restaurant or any other place. Some may lose lot of space in outside so that this gardening is the best option for those people.
Nowadays indoor gardening is very popular because it is relatively easy for busy people to care than other types of gardening and there are variety of reasons that people attract with this type of gardening.
Providing adequate light for the plants is very important factor in the indoor gardening if not the plants may become weak. The plants can place near the window to receive natural sunlight as well as you can provide artificial lights to the plants. There are different types of artificial lights in the market so that you should select the appropriate lights for your houseplants. Good indoor plants can maintain with lower light and humidity.
These plants can grow well by using good soil that should not be too wet or dry. It is important to have drainage holes in the bottom of the pot that helps to keep plant healthy. However, too much watering, lightning and lack of those can be caused to death of the plant.
Container gardening, Hydroponic gardening, Corner raised beds, Living walls, Air plant gardening are some types of indoor gardening.
What are the easiest plants to grow indoors?
The easiest houseplants to grow are ZZ plant, Pothos, Jade plant, Aloe Vera, Snake plant, Peace lily, Dracaena, Spider plant, Rubber tree, Lucky bamboo and Air plant etc. that really help to purify the air by absorbing harmful toxics. In addition, when considering at vegetables and fruits, the vegetables that can be grown indoors easily are Lettuce, Beets, Spinach, Carrots, Mushrooms and Radish etc. and the fruits are  Strawberries, Tomatoes, Lemons, Oranges, Blackberries and so on. Parsley, Basil, Thyme, Mint, Chives and dill are some easiest herbs that can grow indoors.
What are the benefits of indoor gardening?
Purify the air at living area (ex-: Peace lily, Snake plant, Spider plant, Pothos etc.)
Easy to care
Improve memory and mental well-being
Help to reduce stress level
Growing plants inside the hospital rooms that helps patients to recover from illnesses
Help to fight with colds and coughs
Make as breathe easier
Increase humidity
Increase the quality of sleep
Act as perfect decoration
Add fragrance to the place (ex-: Jasmine, Lavender, Gardenia etc.)
4. Flower Gardening
This is also common gardening type and most people engage with flower gardening. People love much to grow flowers. Flowering plants always give your garden fantastic look.
It is great way to add color to the place someone lived. This really provides a natural beauty to garden. You should decide suitable flowers to grow according to your place and can add benches, fences to add more beautiful.
Same type of flowers also can vary depend on colour, fragrance, height, features and so on. Different types of flowers require various amount of moistures, fertilizers, sunlight etc. Some can be easy to care as well as harder to care. Although flowers typically easy to grow anywhere, its survival cannot to decide. You can add fertilizers to bloom flowers.
Zinneas, Marigolds, Dahlias, Daffodils, Daylilies, Sunflowers, Begonias, Cosmos, Geraniums , Morning Glories are some flower plants that can easy to grow for beginners. The plants that gives you most fragrance are Gardenia, jasmine, Magnolia, Honeysuckle, Plumeria Daphne.
5. Vegetable Gardening
Vegetable gardening is a best and common way for people to start gardening. It is easy to begin with some vegetables whereas hardier vegetables can be also easier to grow with correct learning. Different vegetables have various requirements. Some vegetables need a lot of space but some can grow in a small pot. There need low maintenance for vegetable gardening and providing suitable watering, fertilizers to the plant that help to get better results. Vegetables need proper sunlight to grow. Healthy soil allows productive vegetable garden.
What vegetables easy to grow for beginners?
Green beans
Summer Squash
Lettuce
Carrots
Beets
Tomatoes
Radishes
Bell Peppers
Cucumber
Vegetable gardening is very important to all of people because of such reasons. That is very pocket friendly that's why people can easily take fresh vegetables from their own garden for the purpose of consumption and they can also earn by selling vegetables.
People can try to invest costly vegetables like lettuce, broccoli that helps you to earn more money. Fresh vegetables always help to spend a healthy life. It also provides mental and physical exercise, enjoyment and this help to reduce their stress. Vegetable gardening may clean the air.
6. Community Gardening
Community gardening is the practice of growing vegetable, fruits, flowers, herbs and any other plants in a certain land by group of people. That can be urban, suburban or rural. The gardening is based on planting and harvesting carried out commonly. In the past, this gardening is most common type of gardening that used by families for the purpose of their own consumption.
Plot gardens, Cooperative gardens, Therapeutic gardens, Entrepreneurial Market gardens are some types of community gardens.
Why community gardening is important?
There are lot of benefits of community gardening that help to build team spirit by working together so that there can be reduced anti-social works. People can make new friends and gain lot of fun and pleasure by participating in this. This is best opportunity to free from complex lives. Everyone learn to respect and appreciate each other. This is very beneficial because it helps to improve mental health and relaxation, encourage fitness, as well as this allows to improve food security, reduce food expenses, and ability to access fresh foods. This is a great option for people who are unemployed and it is best experience for people who can take a knowledge of the gardening.
What are the disadvantages of community gardening?
People with different opinions may be involved community gardening. Someone's opinion may differ from another's opinion. Lack of respect for the opinions of others can lead to arise more conflicts. There may also be people who violate the terms and conditions and do not perform their duties properly. There can be many problems in the distribution of profit and yield. Some people try to increase their shares more than others. So, this is disgusting to people due to various reasons.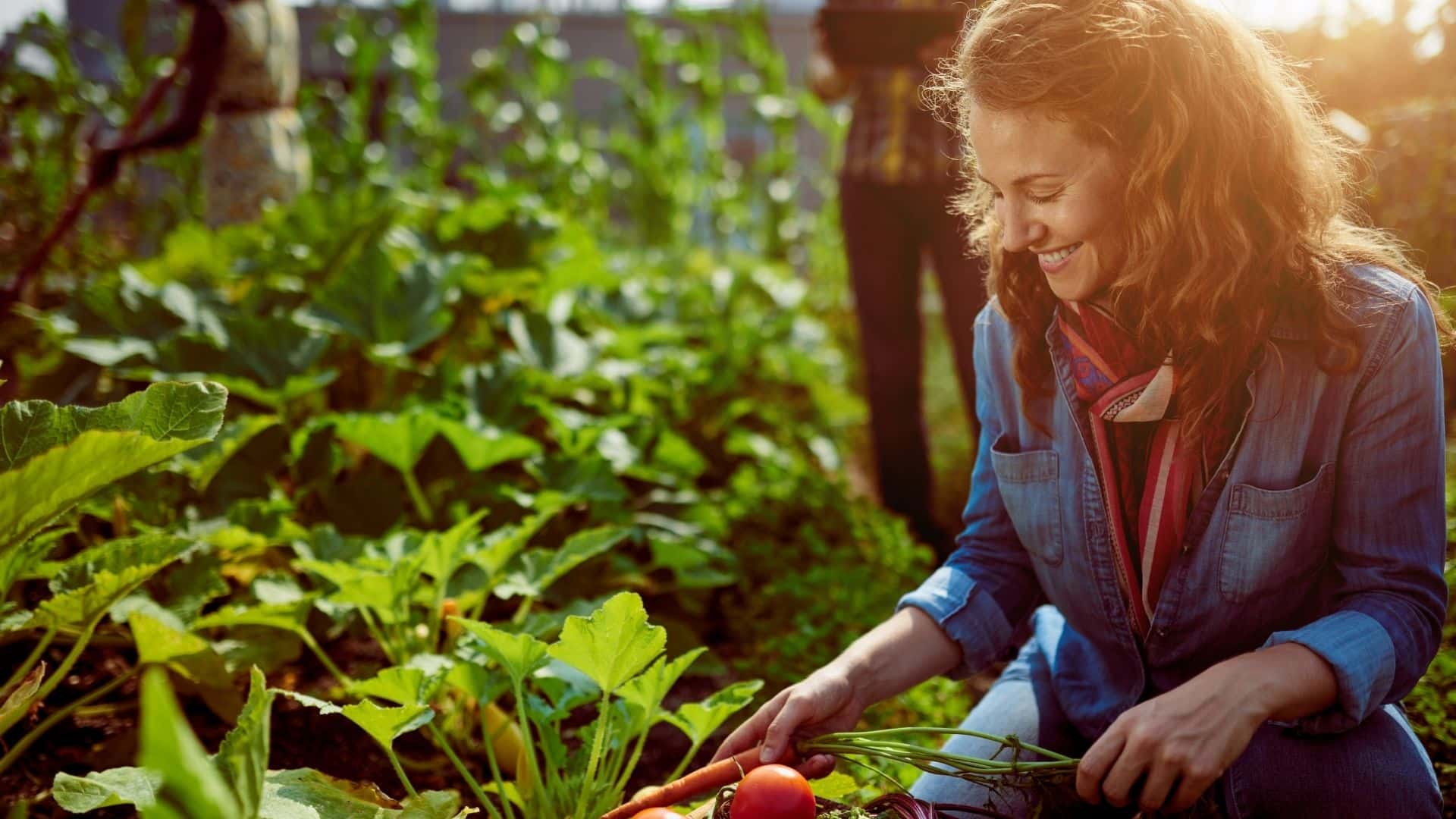 7. Botanical Gardening
Botanical garden is an opened place for public. Lot of plants are grown in here for scientific, educational and ornamental purposes. There should be a library, herbarium, museum, photographic studies, lecture pavilion, greenhouses, arboretum, test grounds and recreational facilities. It is possible to learn whole details about each and every plant. Botanical garden acts as an outdoor laboratories.
The largest botanical garden in the world is Royal Botanic Gardens in Kew, England.
There can be motivated to plant by visiting the botanical gardens and you can also buy the plants that required from gardening stores. You can get best experience by visiting this and it helps you definitely for gardening. If the plants that you are interested at the time of visiting, you can buy those from gardening stores in botanical garden.
8. Raised Bed Gardening
Raised bed gardening is an activity of growing plants in fertile soil in a wooden, plastic or concreted enclosure. They are available in so different styles. Fertile soil plays a vital role in this process that helps to plant stay healthy by absorbing the necessary nutrients. It helps to avoid the difficulties of growing plants in unsuitable soil. That can be provided best results for the plant by adding layer of grass clippings, leaves, straw, wood chips in bottom of the raised garden bed.
There are several raised bed designs such as Built-in raised beds, Trough gardens, Custom designed raised beds, Herb spiral, Sheet Metal raised beds, Ceder Elevated garden beds etc.
There are some advantages of raised bed gardening such as help to reduce weeds, better water retention, reduce the need to use poor native soil, prevent soil compaction, provide good drainage and serve as a barrier to pest issues.
9. Herb Gardening
Not only herbs are capable of providing great flavour to foods but also beneficial for personal health and beauty. In past, people used herb gardening that's why they were willing to provide themselves what they needed and there were not so many facilities in these days. Nowadays it has been left to some extent. People are moved to buy herbs when needed from stores easily.
It is also possible to grow herbs indoors. Pasley is good indoor herb. Chives grow in garden better than a pot. There are some herbs such as Basil, Thyme, Oregano, Chives, Rosemary, Mint, Lavender, Sage and others.
What are the benefits of growing herbs in home garden?
Many benefits can be obtained by growing herbs in your garden. The main advantage is that you can get fresh herbs. Herbs can easily accessible to the kitchen when grown that helps to cookery by adding fresher taste to dishes, salads and garnishing.
When buying herbs from supermarkets that may be expensive. They may also be less fresh. And you know how herbs was grown so that the quality can be retained as it is. Herb gardening is really a good exercise and help to improve health physically and mentally. You are able to take herbs for medicinal purposes instantly whenever you need. This is really pocket friendly thing because saving money instead of spending to buy as well as you can also earn money by selling your herbs.
10. Water Gardening
Water gardening is also known as aquatic gardening. Water gardening can be considered as growing plants in and around a pond, pool or anything that contained water. Typically ponds use for water gardening but in present the plants can grow in waterfalls, fountains etc.  That can create indoor as well as outdoor. The plants have specific requirements and gardeners should care those plants well. Excessive water can be harmful to the plant. It is important to keep water clean regularly to prevent from algae.
Lotus, Mosaic Plant, Pitcher Plant, Canna, Blue Iris, Swamp Lily, Water Lily, Water Lettuce, White Water Snowflakes are some plants that can grow in water.
11. Rock Gardening
It is also known as rockery or an alpine garden. Rock garden refers to a garden designed in rocks, stones, boulders, small pebbles, stones and others.
Rock gardening is a good start for beginners because it is simple, more durable and need low maintenance. This doesn't decompose. Those plants are ability to adapt different seasons and they are most interesting looking. Rock plants usually have long roots in order to obtain moisture.
What plants can grow on rocks?
Creeping Phlox
Coral bells
Fire spinner Ice plant
Yellow Alyssum
Candytuft
Reticulated Iris
Coral Reef Dianthus
Rock cress
Prickly Pear Cactus
Spring Gentian
12. Tropical Gardening
Tropical gardening is another type of gardening. This is associated with large, dense, shiny foliage with vibrant colorful blooms. It is no longer exclusive to tropical areas. Water is an important element of tropical gardens.
To be a successful tropical garden, you should use irrigation system that helps to keep plant healthy but over watering is not good.  This needs care and proper maintenance rather than other gardens. These gardens typically require fertilizers. Although the plants that growing in a tropical garden don't like to be too wet in winters they like water in summers. However usually there can be tall plants and very large leaves.
Palm trees, Paper plant, New Zealand Flax, Hoyas, Banana Plants, Ferns, Canna, Persicaria,  Salvia are some of tropical plants.
Watch here for raised bed gardening guide for beginners| Video
Is wood or metal good for raised garden beds?
This may be changed due to some reasons. Usually wooden raised beds can be used by anyone that's why it is cheap. These raised beds are also not difficult to build and suitable for any garden. When considering metal raised beds, its durability is higher than wooden raised beds because it is much less likely to rot and damage. But it is expensive than wood. Nowadays metal raised beds are popular among gardeners. So choose and start gardening what is convenient for you.
Is rock garden easy to maintain?
Absolutely yes. It is really low maintenance garden type. You don't need to worry too much about weather conditions. Rock garden is creative way to add your garden.
What are the most fragrant indoor flowers?
Most fragrant flowers really help to create an environment where you live by spreading nice smell. Gardenia, lavender, scented geranium, jasmine, lily of the valley, hyacinth, bee balm, tube rose and Marino blue are best smelling flowers that can grow indoors.
Which crops are most profitable in greenhouse gardening?
The most profitable crops to grow in greenhouse are tomatoes, lettuce, strawberries, cucumbers, mushrooms, ginseng, saffron and spinach etc. Grow and enjoy.
Can make indoor water garden?
Yes of course. You can take any type of container to make an indoor water garden. English ivy, Pothos, Philodendron, Lucky Bamboo, Coleus, Watering Jew are some plants that can use to grow indoor water garden. Enhance the beauty of it adding decorative stones.
Conclusion
By reading this guide, I hope you got the full idea of 12 Different Types of Gardening Methods for Your Home.
Please share this 12 Different Types of Gardening Methods for Your Home with your friends and do a comment below about your feedback.
We will meet you on next article.
Until you can read, What are the 5 things that need to grow plants?