Traditionally, cottage gardens consisted of an assortment of useful and ornamental plants, with a focus on edible, medicinal, or animal-forage plants. To brighten the garden, ornamental plants were added, using easy-to-grow annuals, herbs, and tiny shrubs.
In today's world, the best cottage gardens have been meticulously planned to create a beautiful display of attractive plants as well as herbs and vegetables. You can create a cottage garden because it is not difficult.
Cottage plants, on the other hand, tend to be more deliberate in their selection, though color and quantity are still paramount.
Even if you live in a modern home in the city, you can still have a cottage garden. Because they require so little area, cottage gardens work equally well in city backyards as they do in the picturesque village or country settings.
Even though cottage gardens appear to be unplanned and untended, they are anything but. Knowing what plants work well together and being willing to experiment are the keys to achieving the 'as nature intended' aesthetic.
If you're looking for a cottage garden, you'll need a lot more planning than if you're just looking for a colorful bed in a matter of weeks. By reading this guide, you will be able to know, How to Create a Low-Maintenance Cottage Garden.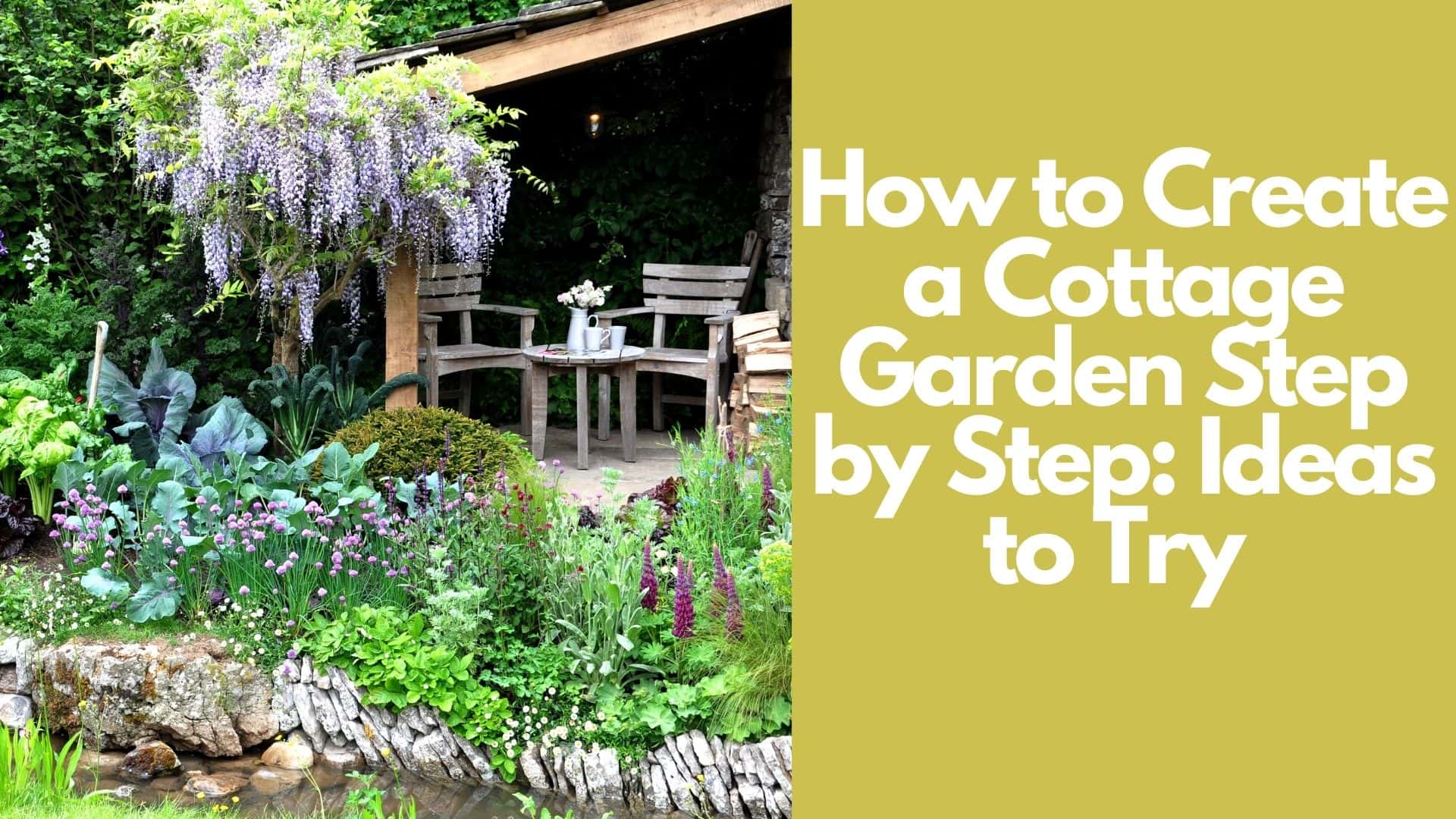 How to Create a Low-Maintenance Cottage Garden?
Here are a few steps to start a cottage garden.
1. Decide the location
If you don't want your cottage garden to become out of hand, start small and learn how to maintain the plants fed and looking lush before expanding.
If you want to avoid a labor-intensive cottage garden, start small by planning a cottage garden area or border, and then increase the size as you gain more experience and confidence.
Generally, cottage gardens prefer sunny locations over secluded ones.
2. Conduct a soil test
If you're going to grow anything in your garden, you need to make sure the soil is rich. Add organic matter, such as compost, to your soil to determine which plants are best suited to it.
It will be easier to get the job done if the soil is rich and organic, and mulching helps retain moisture and keep weeds at bay.
3. Choose the right plants to grow
Cottage-style plants are generally tightly packed with flowers in borders, containers, and hanging baskets. Nectar-rich cultivars are a requirement for attracting bees and butterflies which further heightens the effect.
Sunny gardens are particularly suited to this form of planting, but even if your garden is north-facing, enclosed, or shady, you can still acquire this magnificent floral effect by choosing shade-tolerant species.
This casually charming cottage garden style provides a relaxing spot to unwind which is bustling with animals and plenty of feel-good elements. It's easy to achieve, simply be bold and choose flowers of all colors, shapes, and sizes.
Plant selection should take into account the wagering requirements of each plant, as well as the differences between summer flowering annuals, bulbs that are bright and colorful in the spring, climbers, and shrubs that are evergreen or deciduous, among other aspects.
4. Plant the selected plants
Start by laying out the location of your large, long-lived plants, such as trees and shrubs. Create a color scheme that speaks to your personal style and complements the architecture of your home.
Make sure to include a range of fragrant flowers. Try substituting Mediterranean plants or succulents if you live in a hot, dry region.
You can add visual appeal by incorporating tall plants.
Small trees, shrubs, or obelisks draped in vines might add some structure to your garden. To avoid a hazy and blurry appearance in the garden, grow strong feature plants like shrub roses, flowering trees, and shrubs. Using evergreens in a garden creates a sense of order.
5. Care for cottage garden
Maintain a consistent aesthetic by using traditional materials such as gravel, natural stone patio paving, and wood or metal garden furniture. Make your climbing roses stand out even more by adding an arch or pergola to your garden.
Mulching, watering, feeding, deadheading, pruning, dividing, and planting with the design will keep you extremely busy.
Watering
To keep your plants healthy, you should water them after planting them. Don't overwater your plants, especially if you've just sowed seeds.
Until the plants begin to grow, it is imperative that they be watered often. Do not let the soil dry out or become saturated. Roots can be damaged as a result.
Instead of lugging a hose around, use a watering can that automatically releases water as needed. "It's easy to place the water exactly where you want it, and not on the foliage or flowers.
Mulching
Mulching helps maintain soil moisture levels and reduces weed growth. As organic mulch increases soil quality. Mulch also improves the overall appearance of the garden.
Fertilizing
Organic soil requires minimal fertilization that allows plants to grow. Instead of using synthetic fertilizers, you can use organic fertilizer for the plants of the cottage gardens.
Whether you buy compost or make your own, it's a good idea to add organic matter to your soil every year.
Removing weeds
In order to maintain a cottage garden, it is important to routinely remove weeds. Intruders could quickly take over your planting design, so keep a tight eye out for them.
Some pathways for access and weeding should be added. This will allow for easier maintenance. There are a number of traditional building materials that include brick, stone, gravel, and dirt. Plants should be allowed to grow over each other and onto the sidewalks.
Pruning plants
Keep the plant's size under control by cutting it as the season's change, the best cottage gardens have a wild and free feel to them
Which elements can add to cottage garden?
There are different types of elements used to beautify your cottage garden. It helps to enhance the look of the garden and provide a pleasant welcome for guests to your home.
1. Curving pathway
In place of straight, controlled paths, create gentle meandering ones. Wood chips, stone, ancient bricks, and flagstone are just a few of the paving materials that work well in cottage gardens.
The cottage garden design lends itself to softly curved paths that blend in.
2. Picket fence
As a result of the smaller size of cottage gardens, the type of fence you choose will have a significant impact on the overall appearance of the space. An attractive picket fence or a vine-covered trellis are good options.
White-picket fences and cottage gardens appear to go hand in hand. To construct a border, you don't need a fence. Floppy perennials could easily be shown in a small area. Climbing plants such as roses, honeysuckle, or jasmine can add to the fence in your garden.
3. Homey furniture
Make your cottage garden into an outdoor living area by putting in some comfortable seating. Avoid the latest trends. Adirondack, wicker, or painted metal shellback chairs are better alternatives. It doesn't matter if the furniture doesn't match, the informality is part of the pleasure. It's a good fit for a diverse blend.
4. Rustic stone walls
Another option is to go with rustic stone walls, but be sure to add some pretty climbing plants or even an apple or pear espalier tree.
5. Pergola and arch
Pergolas and arches are popular features in cottage gardens because of their ability to provide shelter as well as a sense of seclusion. A morning cup of coffee is best enjoyed at a bistro table and chairs under a honeysuckle-draped pergola.
6. Traditional aspects
Using old wheelbarrows, bicycles, watering cans, buckets, and carts as planters is a terrific way to add whimsy to your garden.
If you're looking for a low-maintenance garden, an informal style like this one is a fantastic option, but remember to keep the plants in check from time to time.
Which plants are best for a cottage garden?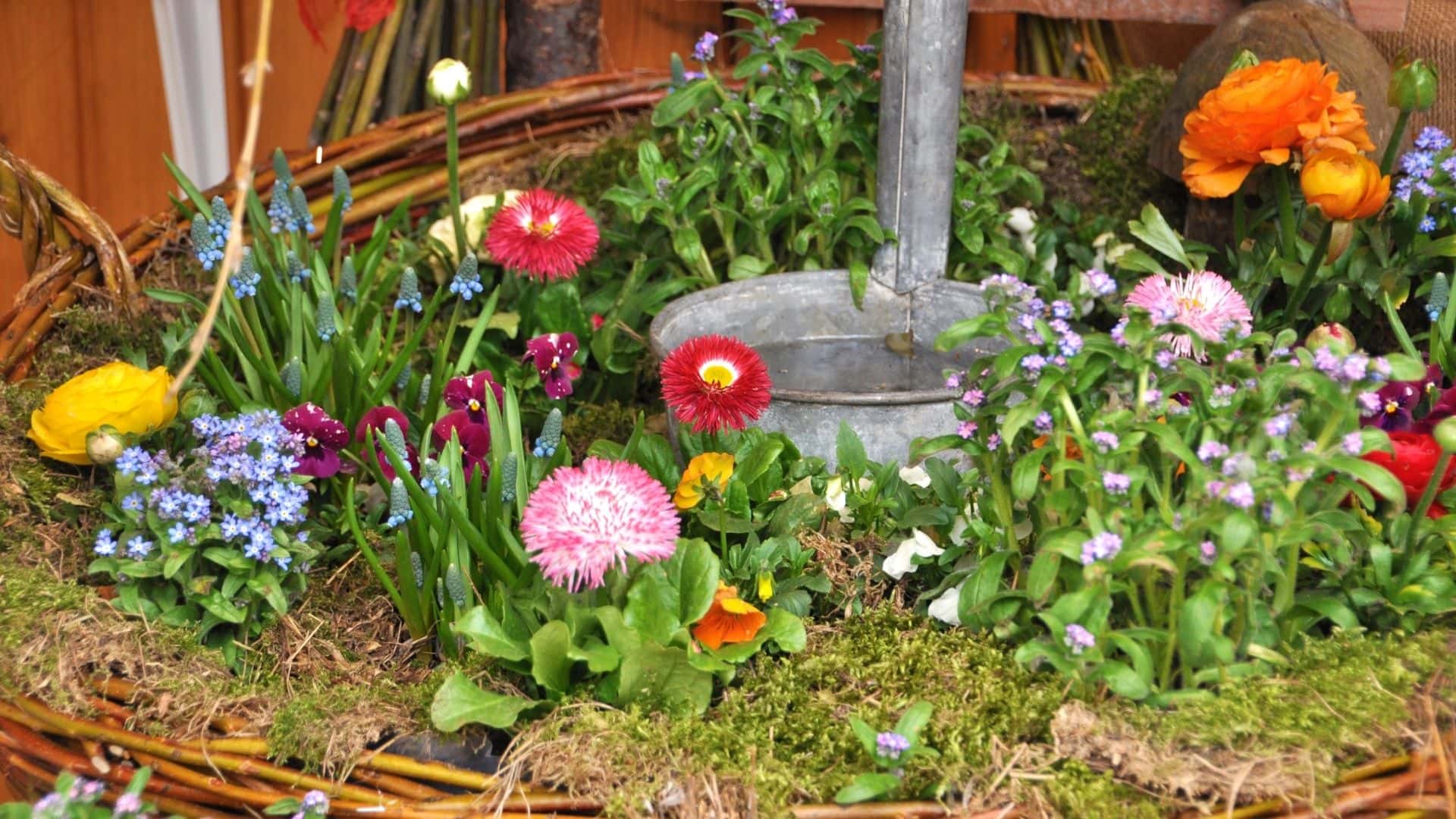 Flowers that are wildlife-friendly, long-blooming, colorful, and fragrant should be your top priorities when planning your cottage garden. When they're not in a bouquet, you want your plants to smell and look just as good as they do in the garden. Plants that can be used in cosmetics, cut flowers, or herbal medicine can be added to your plan.
It should be a whimsy and wild place that inspires both relaxation and a desire to cook or make herbal treatments. Here are some plants that can be used to grow in cottage gardens.
1. Phlox
Another cottage garden classic, phlox have lovely, usually pastel flowers with a sweet, honey-like aroma. They're the excellent choice for the midst of a border and flourish in rich, moist soil in light shade. They're appreciated by butterflies, moths, and other pollinators.
2. Delphiniums           
Delphiniums are cottage garden stalwarts, rising at the back of the border in colors of blue, pink, or white. Stake them before they get too big, and protect them from slugs and snails early in the season. They produce excellent cut flowers.
3. Lupine
Lupines are another plant that can grow in cottage gardens. It can plant with lovely spires of pea-like flowers in a wide range of hues, they contrast well with roses. As with delphiniums, protect them from slugs. Deadhead to encourage a second flush of blossoms. Grow in full sun, in wet, well-drained soil.
4. Honeysuckle
Honeysuckle has a relaxed, spreading habit and yields fragrant, tubular flowers from July to September. For a romantic effect, grow it along a fence or an arched or pergola-like structure.
5. Lavender
Even cottage-style gardens can benefit from lavender's small, evergreen shape. The common name for English lavender is Lavandula angustifolia. The majority of cultivars have purple flowers, although there are also white and pink variations. Grow in a place that receives full of sunlight.
6. Bigleaf hydrangea
Large clusters of pink, blue, or white blooms are produced by bigleaf hydrangea plants in early summer. If you can manage to remove them from your garden, they look stunning in a cut flower arrangement.
7. Peony
Peonies are some of the most romantic plants and they're beautiful, fragrant, and pest-free, all at the same time. Peonies can be enjoyed in a vase for up to three weeks with proper care, or they can be dried to preserve their vibrant colors for even longer.
8. Butterfly bush
This flowering shrub attracts butterflies to your garden in spring and summer with its brightly colored beautiful blossoms. Full sun and good, well-drained soil are essential for butterfly bush success.
In addition, you can also grow these herbs and edible fruits in your cottage garden.
9. Damson
Grow your own damsons in the cottage garden. The tiny purple damson is a unique pocket rocket of a fruit that is smaller than a typical plum. They bring color to the yard as well as easy to grow and maintain.
10. Chives
They're excellent herbs for the cottage garden and a great pest deterrent because they're companion plants. For an early summer yield, chives should be planted in early to mid-spring, when the weather is still mild.
11. Thymes
Thyme thrives in full light on well-drained soil. Some types of thyme can thrive in gravel beds, pavement cracks, or as an alternative to a lawn. Take care of fragile plants in the winter by trimming back thyme.
12. Wild strawberries
Edging plants or groundcovers can benefit from their tidy, mounding nature. Unlike regular strawberry plants, this perennial does not produce runners.
Top 5 Ideas to make awsome cottage garden
Below are 5 ideas you can use to create your own cottage garden.
1. Set up a vintage display room
In a cottage garden, old items add character and a sense of history. Consider repurposing fleamarket treasures into planters and combining them to create an eye-catching arrangement.
When paired with colorful spring flowers, vintage metallic pots are a perfect match for a cottage garden.
2. Add a water feature in your cottage garden
It is possible that the area could be made water feature. A rescued stone trough with a hand pump would fit right in with a cottage garden's aesthetic. It would be suitable if the pond was intended to foster wildlife and hence increase biodiversity in the garden.
3. Plant annuals and perennials together
In terms of color, you can mix annuals and perennials. Although though annuals only live for one year, they put on a magnificent show. Try marigolds, clary sage, and cornflowers as well.
It is an excellent option to create your cottage garden beautifully which lasts a long time.
4. Combine flowers and edibles
Traditional cottage gardens are known for their use of both ornamental and culinary plants.
You may create an awesome cottage garden if you use plants that have a strong scent and are herbal or medicinal in nature.
5. Construct your own greenhouse for planting
You can get closer to your plants by growing them from seed, thus a greenhouse or glasshouse should be part of every cottage garden.
It can become a place to relax and unwind, surrounded by lush vegetation. The trend of incorporating recreation, food, and lifestyle components inside greenhouses.
You will be able to grow the best annual and short-lived perennial plants for your greenhouse in the cottage garden.
Watch how to grow plants in the cottage garden | Video
Is cottage garden low maintenance?
Make sure you take care of your garden. So that you may easily maintain it. It's also critical to select and plant low-maintenance plants. Your garden will look its best with this tool, which makes it easier to maintain.
Is it possible that the blooms in my cottage garden will return year after year?
Perennials are a lot easier to maintain than annuals. Avoid seed-sowing plants like cosmos, nigella, and zinnias in order to reduce the amount of time and effort required. Stay away from perennials like dahlias, geraniums, and lilies.
What kind of plants can be used in an English cottage garden?
There are a lot of plants that can be grown in English cottage gardens such as roses, hardy geranium, peach-leaved bellflower, delphinium, cottage pinks, and Japanese anemone, etc.
What is cottage landscape?
Relaxed and informal, cottage-style landscape design is a far cry from formal or stiff. Curve the margins of flowerbeds and pathways to create an informal feel.
What is the significance of a cottage garden?
Most gardeners prefer to make a cottage garden because, in order to feed their family and treat ailments, they can grow vegetables, herbs, and fruit in addition to a few flowers to deter pests and attract pollination.
Conclusion
By reading this guide, I hope you got the full idea of How to Create a Low-Maintenance Cottage Garden.
Please share these How to Create a Low-Maintenance Cottage Garden: A – Z Guide with your friends and do a comment below about your feedback.
We will meet you on next article.
Until you can read, How to Prune Roses in 5 Simple Steps | Beginners Guide