Everyone loves to grow flowers in their garden. But some people think that there are beautiful flowers that are difficult to grow. It is not so. There are also flowers that are easy to grow and you can make your garden very beautiful.
Before planting flowers, it is good to know the details of flowers that help to easily grow the flowers you want. By reading this guide, you will be able to know, 20 Easy Flowers for Beginners to Grow in Your Garden.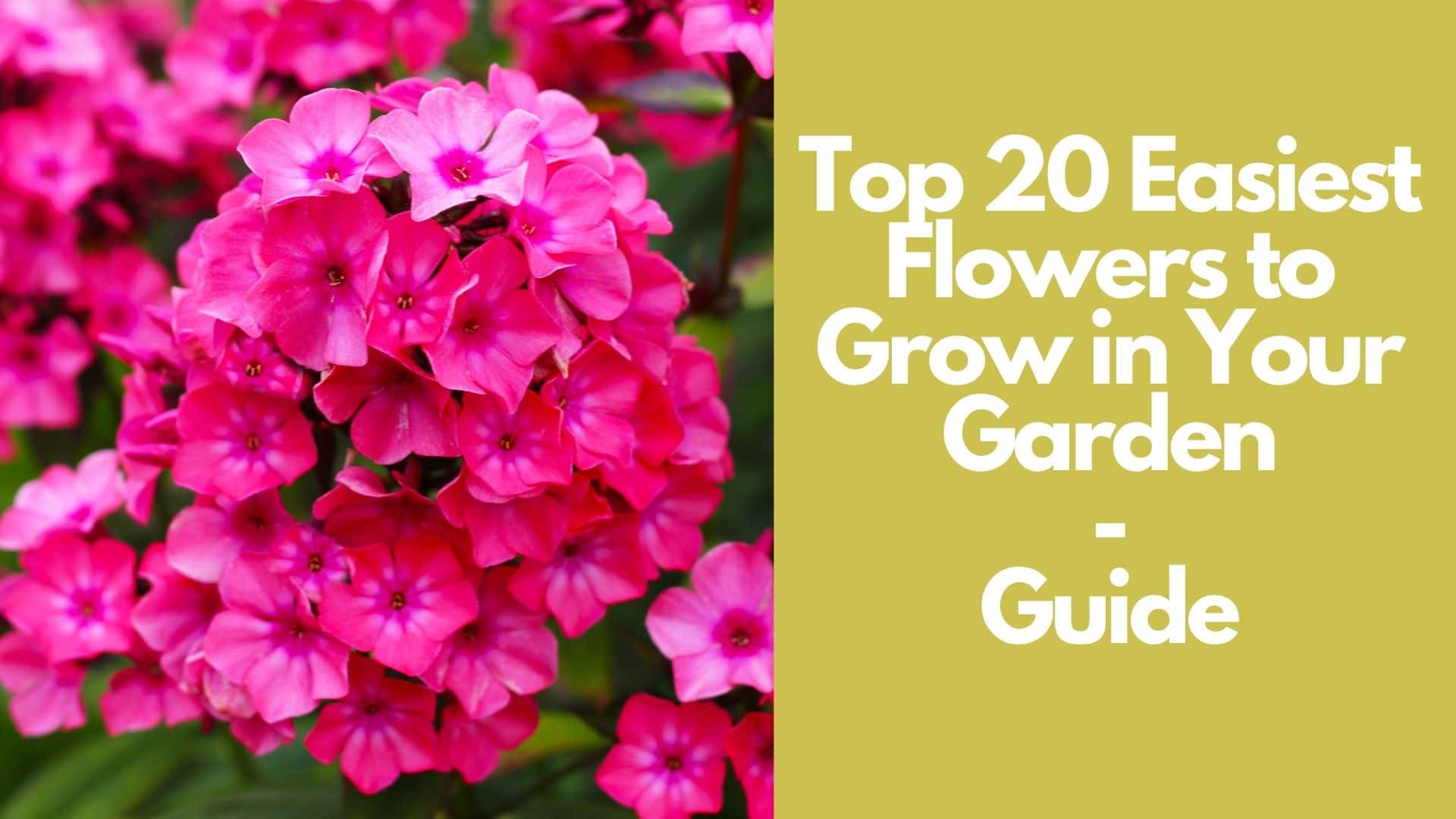 Why planting flowers in your garden are good?  
Growing flowers in your garden really brings more benefits in various ways. The main benefit of the flowers that help to enhance the beauty of home or office where you plant them. It is also especially beneficial for pollinators like butterflies and bees.
And if you are suffering from stress, this is best solution because flowers are great way to boost your mind and relieve stress. You can grow flowers with your family members or someone. It will be a great opportunity for you to have fun and relax with them.
What are the easiest flowers to grow in your garden?
Here are 20 types of flowers that you can easily grow in your garden.
1. Marigold
There are different species of marigold plant such as African marigold, French marigold, Mexican marigold, Signet marigold and Triploid marigold. Those are vary by colors, sizes and shapes etc. Pot marigold is also called as Calendula.
Why marigold is easy to grow?
Marigold plant can be grown outdoor as well as indoor. Marigolds in outdoor easily germinate rather than indoors. It grows and spreads fast by seeds. There is no issue even if sowing seeds directly into the soil. You don't need to worry about the soil because these plants can grow in poor soil but they mostly prefer to grow in well-drained soil.
This grows well in full sun even when fertilizers or nutrients are not used so it is very easy to care. Marigold plant helps to repel mosquitoes and control the pests in your yard.
2. Geraniums
Geraniums are perennial flowers which bloom throughout summer. Ivy Geranium, Regal Geranium and Zonal Geraniums are some varieties of Geraniums. These bloom in pink, red, purple and white and so on.
Why geranium is easy to grow?
These flowers are more loved with direct sunlight. It is essential at least 6 hours sun. Geraniums help to brighten your garden. You can grow this indoor as well as outdoor as you prefer. They need well-drained fertile soil to stay healthy.
3. Sunflowers
The scientific name of sunflower is Helianthus annuus. This is very easy to grow and require little care to thrive and bloom.
There are more than 65 varieties of sunflowers. Some of them are Sundance Kid Sunflower, Pacino Sunflower, Suntastic Yellow Sunflower, Teddy Bear Sunflower, Earthwalker Sunflower, Fantasia Mix Hybrid Sunflower, Skyscraper Sunflower and Sunforest Mix Sunflower.
Why sunflowers are easy to grow?
The plant can be grown by sowing seeds or planting young plants. However sowing seeds is easy way to grow. You can also harvest seeds from own sunflowers. It grows taller above 6 feet. Sunflowers prefer direct sunlight and loose and well-drained soil. Rich soil need to grow roots properly.
Mostly sunflower plant produce its flowers in summer season. This often need enough water to grow roots better but too much water is not recommended. This plant usually tolerate drought. By weeding around the plant helps to prevent from harmful insects.
The plant requires some space to grow properly because there are long roots. It typically blooms in yellow but there are also available in red or orange flowers. Those flowers always attract bees and birds. This fast growing plant provide color and nice looking to the garden.
4. Fuchsia
Fuchsias thrive with direct sunlight but partial shade is also fine. There are different varieties of Fuchsias such as Fuchsia "Armu Nurse", Fuchsia "Alice Hoffman", Fuchsia "Dollar Princess" and Fuchsia "Lady Boothby" etc.
Why fuchsia is easy to grow?
Fuchsia grows from plugs. With low maintenance it can grow. You can grow Fuchsia plant in different colors as purple, magenta, orange, yellow or red. Fuchsia plants most commonly grow in hanging baskets but you can also grow them in pots.
By seeds, transplanting, cuttings or division they can propagate. Well-drained soil and rich potting mix better to thrive. The soil don't be too wet or too dry. Regular watering and proper ventilation need to bloom.
5. Daylilies
The one of easiest flower is Daylilies. They are came from Asia. Daylilies bring more beauty to your garden.
Why daylilies are easy to grow?
Daylilies require direct sun to grow quickly and they also tolerate drought. It is not important to require more fertilizers. There are variety of shapes, sizes and colored daylilies available and they are typically grow above 12 inches.
You should remove weeds around the plant and dead flowers to stay healthy. They are long lived plants.
6. Phlox
Phlox are perennial flowers. Its fragrance is so sweet. White, red and pink phlox flowers bring brighten to the garden.
Why phlox is easy to grow?
Phlox flowers can grow in pots, containers and also window boxes. Full of sun need to thrive but they don't like to drought because they prefer moist soil. The propagation can be done by seeds and division. You should care phlox from fungal diseases.
7. Coneflower
Coneflower is another flower that easy to grow in the garden. There are many varieties of colors available such as pink, purple, red, orange or yellow etc.
Why coneflower is easy to grow?
By sowing seeds coneflower can grow. You should plant it in a place where there is good sunlight. These flowers tolerate poor soil but need well drained and moist soil. Growing these plants in July is better. The flowers attract pollinators.
8. Zinnias
Zinnias are most popular flowers which are easier to grow. They are available in orange, yellow, red, purple, white, pink and so on. The species of Zinnias are Zahara, Orange star and Dreamland etc.
Why zinnias are easy to grow?
The zinnia plants grow quickly as well as blooming fast. You can see single or clustery flowers. Zinnias prefer rich and well-drained soil but they grow even poor soil. They are well grown in full sun. It is better to add compost to the soil.
They grow and spread from seeds. When the flowers are died, they use to plant again. To produce more flowers you should cut old flowers.
9. Dianthus
Dianthus flowers are fragrant so they attract butterflies and also birds. You can grow Dianthus in purple, red, white and yellow with variety of shapes.
Why dianthus are easy to grow?
This needs at least 6 hours sun but partial sun is fine. Too much shade may slow blooming. They prefer well-drained soil. The soil should be prevented from drying out too much so that frequent watering is necessary. Nutrient rich soil is better to thrive the plant.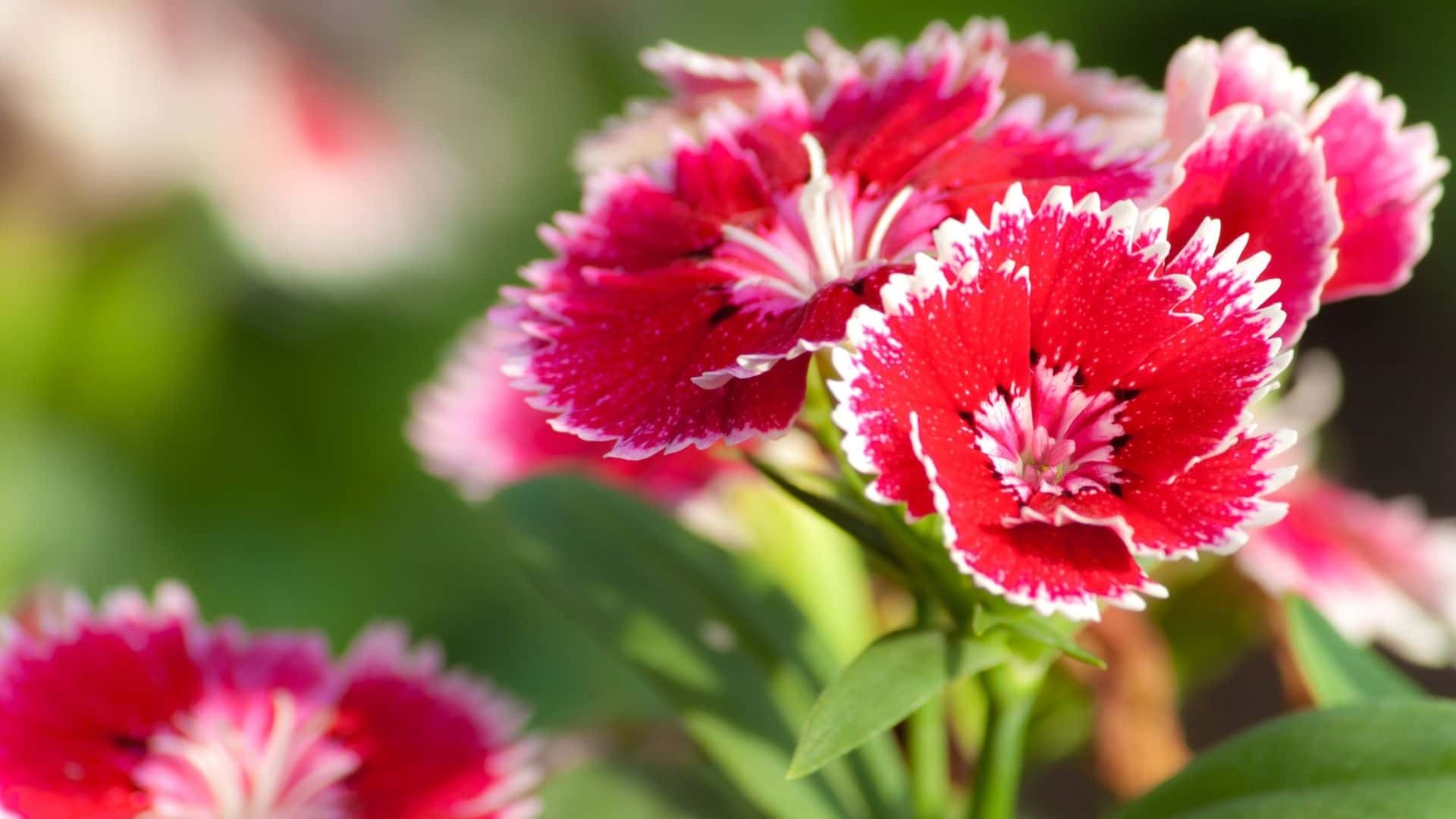 10. Cosmos
Cosmos are annual flowers which bloomed in orange, pink and white. They bloom throughout the summer. "Sensation Mix" tall cosmos, "Sonata White" tall cosmos, "Xanthos" tall cosmos, Pink popsocks cosmos, Chocolate cosmos, Bright Light Sulpur cosmos are some varieties of cosmos.
Why cosmos are easy to grow?
You can plant cosmos by sowing seeds and young plants. They prefer direct sunlight and well-drained soil. Cosmos do not require much maintenance. When the plant grows, it produces flowers.
11. Pansy
This is best flower to beginners for flower gardening. Pansy flowers bring colorful and attractive looking.
Why pansy is easy to grow?
They like full or partial sun but it is good to have cool weather to stay healthy. Growing Pansy flowers by seeds is very easy. Excellent drained and loose soil, regular enough watering as well as providing balanced fertilizer require to grow.
Too much heat and lack of watering can slow blooming. This is better to grow in border of garden.
12. Sweet Peas
Those flowers are highly fragrant flowers. There are available wide range of colors of sweet peas such as pink, red, white, blue and purple.
Why sweet peas are easy to grow?
Sweet peas are mostly grown in direct sunlight and partial shade. Sowing seeds directly in the garden is easy to grow. Providing fertile soil and some of nutrients helps to produce more flowers.
13. Nasturtium
This is one of the easiest flower to grow in your garden. The plant produces abundant flowers from May to September.
Why nasturtium is easy to grow?
Nasturtium flower prefer full of sun, frequent watering and good drainage. To encourage blooming, it is important to cut dead flowers. The flowers can be seen in variety of colors such as yellow, red, orange or cream etc. Most gardeners use Nasturtium to cover their gardens.  
14. Lavender
Most of gardeners use Lavender to grow in their gardens because it is also easy to grow and maintain.
Why lavender is easy to grow?
Lavender requires direct sunlight and well-drained soil to thrive. It can grow in different places and growing in pot is most common and brings colorful to the garden. There are so many species of Lavender. Regular watering helps to bloom more.
15. Dahlia
Dahlia is a member of Asteraceae family. It takes on different colors like red, pink, purple, yellow and white etc. The species of Dahlias are Single flowered dahlia, Collarette dahlia, Pompom dahlia, Star dahlia, Paeony flowered dahlia and Anemone flowered dahlia.  
Why dahlia is easy to grow?
It is not really difficult to grow. This tolerate full sun and also like moist climate. Compost help to provide nutrition to the plant. Dahlias require adequate space to grow better.
16. Daffodils
Most of Daffodils bloom in spring. This flowers is great addition for your garden because it brings nice looking and enhance the beauty of garden.
Why daffodils are easy to grow?
They are usually grown in sunny location but partial shade is also fine. You should make sure avoid full shade. Well-drainage soil is better to grow. Mostly they may be bloom in September. Yellow daffodils are really nice looking.
17. Begonia
Begonia is perfect flower to grow indoor or outdoor. There are more than 1500 species. Charm begonia, Richmond begonia, Ambassador Series begonia, Solenia "Dusty Rose" begonia and Cocktail Series begonia are some of species of begonias.
Why begonia is easy to grow?
Begonia need low maintenance to grow and some varieties spread well. These most beautiful flowers prefer to indirect sunlight and fertile soil to stay healthy. The leaves of some begonia plants are also beautiful.
18. Impatiens
Impatiens flower is also called as Busy Lizzie. They blooms in variety of colors. In addition to Common Impatiens there are New Guinea, Jewelweed Impatiens and Interspecific Impatiens. Growing Impatiens in hanging baskets brings brighten and color to your garden.
Why impatiens are easy to grow?
They can grow both outdoors as well as indoors. Impatiens mostly like to grow in full or part shade and fertile and moist soil. Providing liquid fertilizers is good to grow roots quickly.
19. Morning Glories
Morning glories desire full sun. There are heart shaped leaves and fragrant flowers. Those flowers attract butterflies and bees. White, pink, red, blue, purple or magenta morning glories are available.
Why morning glory is easy to grow?
It is better to grow plants in fertile and well-drained soil but they also tolerate poor soil. You should water regularly to improve blooming. Mostly the plant produce flowers in mid-summer. With little care you can get gorgeous looking to your yard.
20. Shrub Rose
Shrub rose is another flower that is easy to grow. This is also known as landscape roses.
Why shrub rose are easy to grow?
They are very popular because heavy blooming can be seen and very perfect for the beds. With adequate watering, lightning and fertilizing shrub roses grow and bloom well. Care well in planting period. Then your plant will become mature short period of time and produce more roses.
Ambridge rose, Anne Boleyn rose, English rose, A Shropshire Lad rose and Hybrid Musk rose are some of varieties of shrub roses.
Watch how to plant, grow and harvest sunflowers? | Video
Can sunflowers grow in pots?
Yes you can. Sunflowers grow well in pots. You should choose a right size pot and consider the depth of this pot because many variety of sunflowers require some deep.
Why are marigolds going to dry?
This is because too much heat and lack of watering. Therefore marigolds plants become leggy and dry. If your climate is too much heat, water regularly to your plants.
How long does lavender take to grow?
Lavenders take 3 to 5 months to mature from sowing seeds because they are slow growers.
Can fuchsia grow indoors?
Yes. Fuchsia can grow indoors by providing adequate requirements. Use good potting soil to plant fuchsia. Keep your plant in a place where receive bright but indirect light. Prevent from too much heat. Water fuchsia regularly to keep the soil moist.
What are the best morning glory varieties to grow?
Heavenly Blue, Celestial Mix, Caprice, Carnevale di Venezia, Grandpa Ott, Inkspots and Knowlians Black are some of best morning glory varieties to grow in your garden and they bring nice looking.
Conclusion
By reading this guide, I hope you got the full idea of 20 Easy Flowers for Beginners to Grow in Your Garden | Guide
Please share this 20 Easy Flowers for Beginners to Grow in Your Garden | Guide with your friends and do a comment below about your feedback.
We will meet you on next article.
Until you can read, How to Grow Bell Peppers at Home with Caring Tips | Guide