The bottom-up and top-down support systems used in vertical gardening allow a wide range of plants to be grown in small and big garden spaces alike, making it a highly efficient and innovative method of gardening. Hundreds of varieties of vegetables, fruits, and flowers can be grown on freestanding and wall-mounted supports, as well as in beds or pots.
A wide variety of designs, sizes, styles, and colors are available for vertical gardens. You may either construct it yourself or buy it from the store. As a result, it is necessary to select the side of your balcony wall that receives the most sunlight in order to ensure healthy plants.
So, it is no need for a large yard to create a vertical garden in your living place. If you're looking to add some greenery to your life, you might want to start with your balcony.
Making a vertical garden can be as simple as using a kit or as complex as using DIY alternatives. Vertical gardens on a balcony can be created in a variety of ways after you've followed these guidelines. By reading this guide, you will be able to know, 15 DIY Vertical Gardening Ideas for Your Balcony.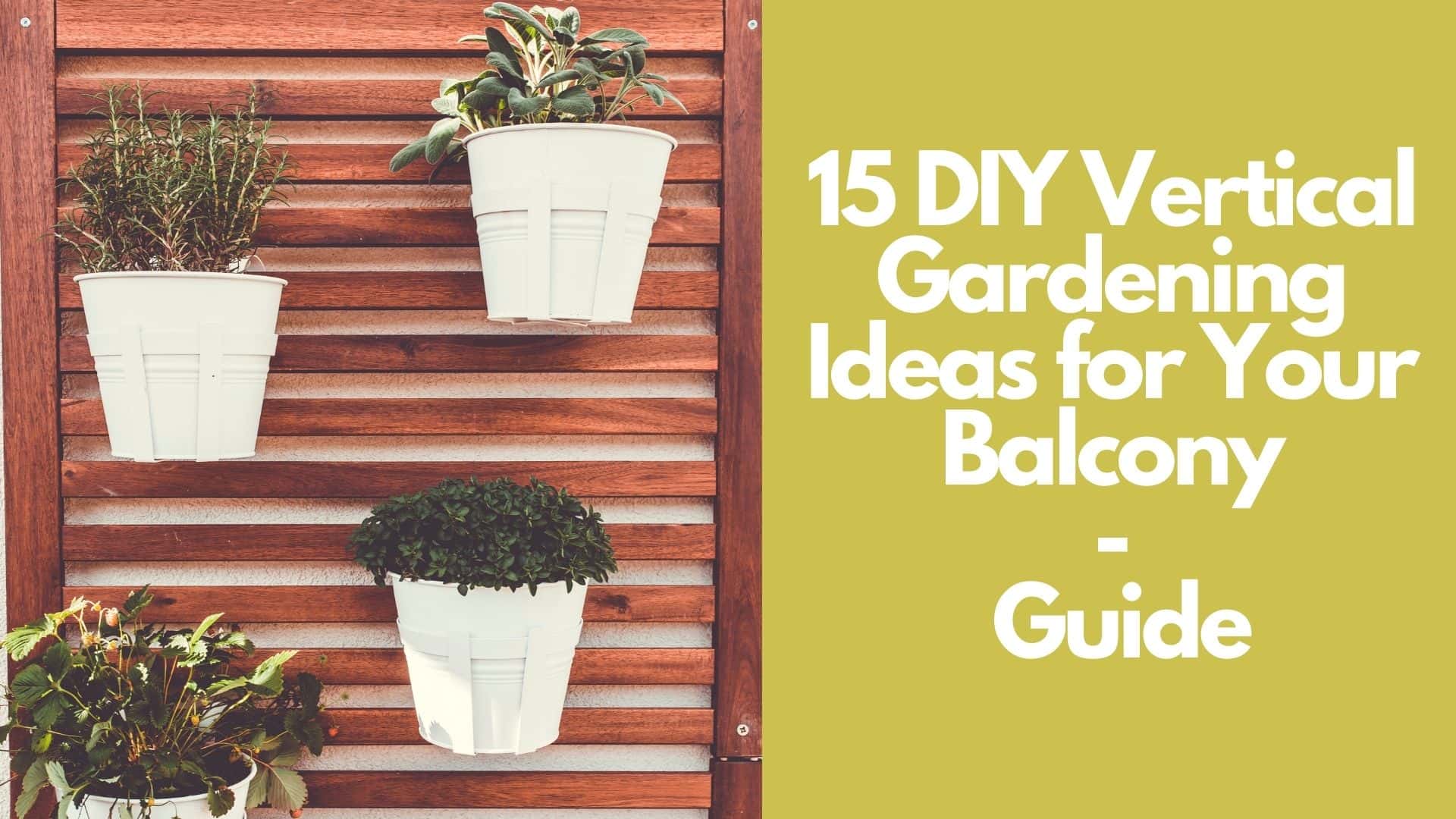 What are the different ways to make a vertical garden on the balcony?
Here are 15 ways you can use it to create your own balcony garden.
1. Vertical pallet planter
This method allows you to produce a wide variety of plants in a little space, such as herbs, salad greens, and ornamentals. A few more ideas for using pallets in the garden have been provided below.
How to use vertical pallet planter in the garden?
First and foremost, pallets are the most commonly utilized material for vertical gardening. For a tiny garden, you can use pallets to build a raised garden bed. Wood can be used in vertical designs to provide a soft and unique aesthetic. Densified wood is an excellent material for creating long-lasting designs.
Each pocket should be filled with potting soil. Make sure you put a sufficient amount of soil so that the plants may grow to the top of the pallet slats.
Then, you can decide on the plants you want to grow on a pallet. In addition to succulents, annuals and small seasonal flowers would look lovely in this arrangement as well.
2. Vertical clay pot tower
A vertical garden in a clay pot is a great way to add some greenery to your balcony or sitting space. It doesn't take long to get creative with the vertical aspect when you observe how it may attract the attention up with a variety of layouts. They're lightweight and portable, so you can store them indoors during the winter.
How to use vertical clay pots planter in the garden?
Clay pots of several sizes and a long wooden dowel are required. Plastic pots for gardening are available. Look for the long wooden dowel.
Spray-paint clay pots to protect them from the rain and the sun. Clay pots can be personalized with the names of flowers or herbs painted on them.
3. Bamboo trellis planter
The bamboo trellis planter is a great addition to the balcony because it brings a really nice looking. It's possible to grow a wide variety of plants in this trellis wall garden.
How to use a bamboo trellis planter in the garden?
Making a bamboo trellis planter is not difficult. Create an obelisk or rustic tuteur by stapling together numerous lengths of bamboo. With lengthy limbs saved from your yard, you can save money. For a stunning focal point, train annual vines like morning glories or black-eyed Susans up it.
4. Brass ring planter
This brass ring planter is a simple and stylish option for your balcony garden. There are different ways to create a brass ring planter at home.
How to use a brass ring planter in the garden?
You may also use a wall hook to hang one of the smaller ones. Keep in mind that you'll want to choose plants that are both eye-catching. It is ideal to grow succulents or tiny potted plants.
Just change around a few plants in a few tiny containers to see which one you prefer once you've hung them together or separately.
5. Vertical lettuce planter
Lettuce, herbs, and other green leafy vegetables are a favorite of many people. Make a vertical planter in a small amount of time and effort. To do this basic task before noon is a straightforward task.
How to use a vertical lettuce planter in the garden?
Lettuce necessitates light to survive. Permanently positioned in an area that receives six hours of sunlight would suffice.
Unique air circulation can be provided by vertical gardens.
In terms of soil, there aren't many variables to consider. Lettuce prefers loosely packed soil that does not cling to the roots. It's best to use potting soil or any medium that allows the tiniest roots to grow in a vertical garden.
6. Wooden crates vertical hanging planter
Four little buckets, a cabinet, and hooks are all you'll need to create this vertical garden. It's a great way to give your favorite plant a fashionable environment.
How to use wooden crates vertical hanging planters in the garden?
Sand the rough edges off your wooden crate's bottom after drilling small holes in it. This will prevent the wood from rotting by allowing water to drain. You should drill holes for the rope in each corner of the crate and sand the surface to a nice finish.
Crates must be painted which helps to enhance the beauty of the balcony garden. Cut four equal pieces of rope and thread one through each of the corner holes and secure it. To finish, make a tight loop at the top of the cord. Set up your new planter, fill it with your favorite herbs, and hang it up.
7. Vertical ladder planter
Ladder-style vertical planters are a great way to liven up the look and feel of a balcony garden, and there are a plethora of shapes and types to choose from. It has a lot of room for your plants and flowers thanks to its three-tiered shelves, and it would look lovely against your garden walls.
How to use a vertical ladder planter in the garden?
You can grow your favorite plants or flowers on the ladder shelves if you don't have room in your garden for fresh plants. With some wood and a few basic tools, you can quickly build this ladder-style planter box. In order to construct the ladder, you must build the ladder boxes independently and then attach them to the ladder support unit.
8. Hanging terrarium planter
Another idea for the vertical garden is a hanging terrarium planter. Most gardeners use this option to create their garden beautifully.
How to use a hanging terrarium planter in the garden?
Make a decision about what kind of plant to put in the terrarium. There's no need for potting soil when you're going to be planting air plants. It's also a lot easier to care for air plants than other types of plants. Some mosses and some activated charcoal, rocks, small sticks, or bark in a couple of glass hanging terrariums For succulents and other small plants, you'll need to use potting soil in your modern terrarium. Remember to water it regularly to plants.
9. Plastic bottle garden
Instead of throwing away those empty plastic bottles, consider reusing them. Create a vertical garden on your balcony by repurposing empty bottles. It is easy to make a plastic bottle vertical garden.
How to use plastic bottles planter in the garden?
With this clever recycling idea, you can give your home a winning tale about sustainability. If you're having trouble hanging the bottles, try stringing them together and fastening them to the rails or edge of your balcony. Spray paint them and create an eye-catching vertical garden.
10. Hanging gutter planter
Make a hanging gutter garden like this one if you have a small patio, balcony, or roof garden and want to grow a lot of plants.
How to use a hanging gutter planter in the garden?
Draw a reference line in the middle of your gutters so that your gutter will hang properly. Place the steel cable rods in their designated locations and mark and drill holes for them. To reduce wiggle room, use a drill bit that is the same diameter as the cable. For good drainage, drill holes a few sizes larger.
This is good news for anyone who has been worrying about garden pests like gophers and dogs. It is possible to keep your plants alive and well in a gutter garden that is elevated above the ground.
The soil will be hotter and the plants will be drier if the gutters are dark, compared to a bright white gutter that would reflect light and heat.
11. Bookshelf vertical planter
A vertical garden is an ideal way to repurpose an old bookcase. It's a lot of fun and quite useful. It's a beautiful piece of art that can be placed wherever you desire. Make sure your plants are in nice pots and get your sheltie on if you already have a bookcase. Any kind of shelf can be used for this project.
How to use a bookshelf vertical planter in the garden?
To provide a nice look for a bookshelf, paint it in color as you prefer.
For further security, screw anchoring hooks into the wall where your bookshelf is situated on the balcony. Assemble your bookshelf by attaching one end of the hooks to its back. Tie the shelf to the wall so that it doesn't tip over or wobble about.
Use a cork pad under the pots to prevent water from leaking and destroying the shelf, or seal the shelf with paste wax or sealant.
Make sure you choose plants that are easy to care for and maintain. Keep in mind that plants must not grow too high, so keep an eye on their height. Herbs like rosemary and dill and cilantro and basil are excellent choices for a vertical bookshelf garden.
12. Shoe organizer planter
For a small balcony, you should think about making a wall planter like this. Because of this, you don't need to place a lot of planters on your balcony. In addition to being space-saving, hanging pocket planters are time-saving as well.
How to use a shoe organizer planter in the garden?
Hang a door hanging from the balcony or the wall of your garden. As long as you check to see if the door hanger can handle the weight of the full-pocket shoe organizer. Fill the pocket with enough soil and compost to raise the mineral content.
Making planters out of shoe organizers that hang from hooks is one option.
Watering, weeding, and other upkeep don't necessitate spending time and effort on every planter on your balcony. In addition, it requires no more effort than other planters to maintain.
The plants should be kept well-watered. You don't want to wash the soil out of the pockets by over-watering.
Plants that are diseased, infected, or otherwise damaged should be removed.
13. Staircase plant stand
All-in-one solution for city dwellers who only have outdoor space on their balconies. You will be able to quickly and easily expand your most beloved plants in the staircase plant stand. It also helps to save the space in the balcony by growing a lot if plants in one stand.
How to use a staircase plant stand in the garden?
Buying pre-made staircase risers makes this job so easy because all you have to do is add wood for the steps and support posts and you're finished.
For container plants of varying heights, a staircase plant stand provides a straightforward solution. Attach the staircase steps to the support frame. If you like to decorate your staircase plant stand, you can spray paint. You can grow flowers or herbs in a container on top of it.
14. Strawberry tower
If you don't have a lot of space, it's incredibly simple to assemble this strawberry tower out of an inexpensive planter in a balcony garden.
How to use a strawberry tower in the garden?
Strawberries don't need a lot of soil, so cut out tiny parts.
It's built of plastic pots stacked on top of each other in a tower shape, so it's simple to take care of.
In the absence of a reservoir or pebbles on top of the strawberry planter, the soil dried out rapidly and washed away when watered.
In order to ensure that all of the plants get some sunlight, rotate your pots every 1-2 weeks.
Strawberry plants are heavy feeders, so this strawberry planter is a great solution for a balcony. Every 1-2 weeks, top off the reservoir with diluted fish emulsion, compost tea, or worm tea.
If one of the seedlings fails to germinate, wait until the rest of the seedlings produce runners, then tuck the runners into the voids. They'll be able to take hold quickly.
15. Pot holders with an iron grid
In order to hang the pots, you can weld or weave the iron rods together in a grid.
How to use pot holders with an iron grid in the garden?
It's up to you whether you want to paint the wall plant holder or not. Purchase the color of your choice if you don't have spray paint on hand. It is great to paint it white.
You will plant your plants in the containers. In the original plastic pots, they came in, you can just put them into the holder. It's possible for water to seep into the holder when you water the plants.
Slide the plastic containers onto the wall grid to complete your wall planter. Get creative and experiment with different ways to arrange the plants in your garden.
Succulents, different colored plants, and flowers can be used to decorate the balcony garden.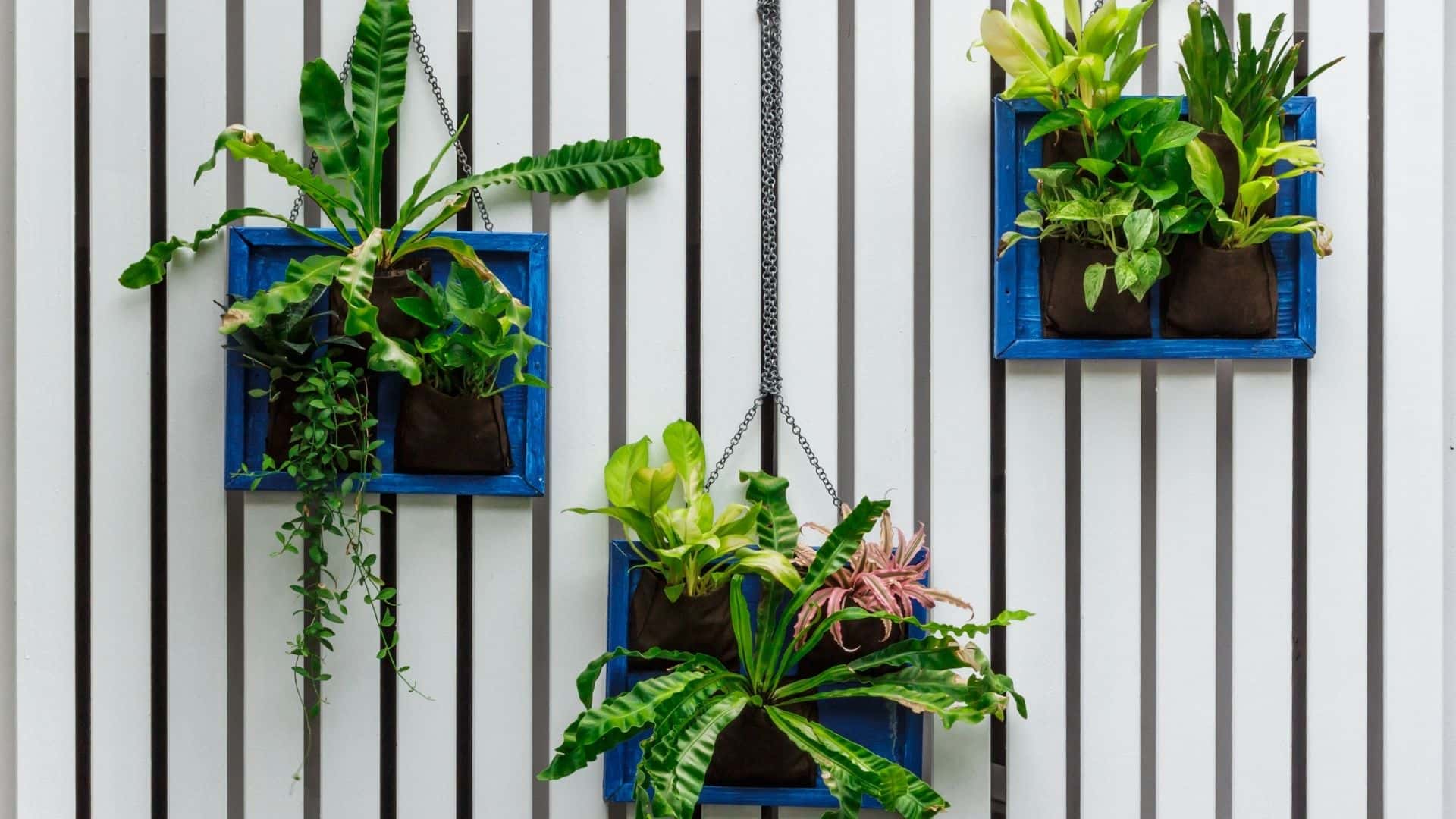 What are the best plants for vertical gardens on the balcony?
Here are 5 varieties of plants that can grow in a vertical garden on the balcony.
1. Orchids
In a vertical garden, orchids such as Dendrobium and Oncidium spp. cascade with exotic blossoms and strappy foliage. While orchids are low-maintenance and easy to care for, they thrive in strong light but not direct sunshine.
2. Cactus and Succulents
Succulents are by far the most popular plants for vertical gardening. Because of their adaptability and tolerance to a wide range of environmental conditions, they are exceedingly popular.
3. Ivy geranium
It is possible to find ivy geraniums in a wide range of hues ranging from white to pink to lavender to purple to orange to salmon to crimson or burgundy. Many modern varieties have semi-double or double blooms, which is a departure from the traditional single, 5-petalled flower. Some are multi-colored and patterned, while others are just plain. So, choose the best variety to grow in your balcony vertical garden.
4. Impatiens
Impatiens have long-lasting blossoms and blooms continually throughout the summer and fall until the first frosts. Compact and adaptable plants, Impatiens can be planted in a wide range of containers, as well as in borders or raised beds. Red, pink, orange, and purple as well as white and pastels are the colors of choice for these flowers.
5. Begonias
Begonias are one of the most eye-catching plants. These plants are awe-inspiring to look at. They have the ability to transform any location into something beautiful and enchanting. For a vertical garden, Begonias are a fantastic choice.
In addition, Basil, Dill, Lavender, Chives, Mint, and Cilantro are some herbs that are suitable to grow in your vertical garden on the balcony.
Watch how to make vertical planter from plastic pipes for balcony | Video
Are vertical gardens better for balconies?
Yes. It's better for the health of your plants to maintain them in the vertical space. In addition to protecting your plants from soil-borne pests and diseases, such as fungal and bacterial infections, being elevated above the soil can also provide further protection.
Is it easy to maintain a vertical garden?
Yes. Vertical gardens are more convenient to maintain than a regular garden since they require less time and effort. For physical reasons, performing at eye level is preferable to doing so from the knees down. It is also easier to keep pests and diseases at bay because the plants are in containers.
Can tomatoes grow In a vertical garden on the balcony?
Tomatoes can be grown vertically. It is possible to grow a vertical garden using trellises or ropes to support the plants in the ground or in pots.
Installing grow lights in your vertical garden allows you to extend the growing season by placing them on your balcony.
What kind of soil is ideal for a vertical garden?
The best potting soil for a vertical garden is a mixture of loamy soil and other materials, such as compost. Compost and other organic debris can improve your soil.
What's wrong with a vertical garden on the balcony?
As a result, vertical gardening has some drawbacks, including the risk of rot if the planters are not fitted correctly.
Moisture can seep into a brick or masonry wall when a vertical garden is planted against it. Similar to a deck, a vertical garden can discolor and tarnish the surface underneath it.
In order to grow heavy plants, you may need to tie the setup to a more robust supporting framework. One of the drawbacks of vertical planting is this difficulty.
Conclusion
By reading this guide, I hope you got the full idea of 15 DIY Vertical Gardening Ideas for Your Balcony | Guide.
Please share these 15 DIY Vertical Gardening Ideas for Your Balcony | Guide with your friends and do a comment below about your feedback.
We will meet you on next article.
Until you can read, How to Create a Low-Maintenance Cottage Garden: A – Z Guide